Description
If the mainstream doesn't quite cut it for you, then join Demetri Walters MW on a voyage of vinous discovery as he seeks to unearth the out-of-fashion, the little-understood, the antiquated and the downright obscure. Together we will seek inspiration and delight amongst regions yet to hit the limelight; we will sample the results of human endeavour and enjoy the most authentic of wine styles. It promises to be an enlightening experience. Hosted by Demetri Walters MW, Wine Educator & Presenter.
WINE LIST:

NV Hambledon, Classic Cuvée, Sparkling, Hampshire, England
2016 dourthe ch. rahoul blanc, graves
NV Le Soula, La Maceration Blanc, No.16 – Côtes Catalanes, Roussillon
2016 Gewürztraminer, Domaine Rolly-Gassmann
2016 Grüner Veltliner Hinter der Burg, Federspiel, Prager
NV Bodegas Lustau, Manzanilla Pasada, Almacenista Cuevas Jurado, Jerez
2011 Ramey Pedregal Vineyard Cabernet Sauvignon, Napa Valley, California
2016 Sadie Family Wines, Collumella, Swartland, South Africa
2011 Amarone Classico della Valpolicella Monte dei Ragni, Veneto
1991 Graham's Port, Portugal
---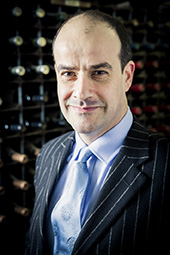 *About Demetri Walters MW
As Wine Educator & Presenter for Berry Bros. & Rudd, Demetri's approach to presenting wine is amusing, accessible and entertaining. He is an expert at leading wine tasting events, conducting private wine tuition, providing specialist presentations at third party Wine Fairs and Master of Wine Educational Seminars, and is an international wine judge. Demetri also operates product training, WSET education and wine list advice to the restaurant and hotel trade. His remit is international and involves teaching wine students, private clients, on-trade customers (restaurant teams, sommeliers and corporate wholesale customers) and distributors all over the world, including in Europe, the Middle East and Asia.
---