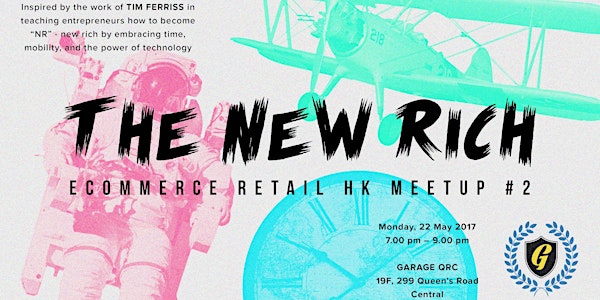 The NR (New Rich) - eCommerce Retail HK Meetup#2
When and where
Location
Garage Society QRC 299 Queen's Road Central Sheung Wan Hong Kong, Hong Kong Island Hong Kong
Description
The NR (New Rich) - eCommerce Retail HK Meetup #2
Join us at our monthly NR (New Rich) - eCommerce Retail Meetup in collaboration with Garage Academy and connect with fellow entrepreneurs on how to automate your workflow, outsource menial tasks and create an auto-pilot income stream.
Inspired by the work of Tim Ferriss in teaching entrepreneurs how to become "NR" - new rich, by embracing time, mobility and the power of technology, this series of meetups will be dedicated to focusing on how to achieve a 4-hour workweek and/or continue to grow your revenue as a 4-hour workweek NR in Hong Kong.
Each month expect a series of lightning talks before opening up the floor for questions and networking drinks with the NR Community.
Topic #1 : What is virtual assistance and what a VA can do for you?
Virtual assistance is the most cost effective way to start up a business or operate a business effectively with controlled costs and stay on budget. Learn more about virtual assistance and how it might make your life, personal or business, easier and better.
Speaker -
Hong Kong Virtual Assistant
Speaker bio:
The founder is a Canadian born Chinese living in Hong Kong since 2000. Prior to creating The Hong Kong Virtual Assistant she was an executive assistant to the Global Head of Securities Technology at Macquarie as well as the Chairman of Oasis Hong Kong Airlines. The founder has previously worked for a Hong Kong Family Office as executive assistant to the Managing Director and for a financial tech start up where she was responsible for HR and opening offices in four countries with staff of 23 at the height of operation. She and her husband are also on the board of a non profit that serves the ultra poor in the Philippines and a new born daughter now 6 months old.

Topic #2 : How to source quality products to sell online
Learn how you can source quality products from verified suppliers in China and the rest of Asia to sell online. We'll talk about sourcing online and at trade shows, and how online & Amazon sellers use Global Sources to import more effectively.
Speaker: Brent Barnes, COO, Global Sources
Brent has been working closely with manufacturers and global importers for more than 17 years. As COO, he is responsible for Global Sources' worldwide operations, including community development, content development and trade show operations.
About: Global Sources has been connecting global importers with manufacturers for more than 45 years. More than 1.4 million international buyers from over 240 countries, including 95 of the world's top 100 retailers, and thousands of online & Amazon sellers use our services to source from overseas supply markets.