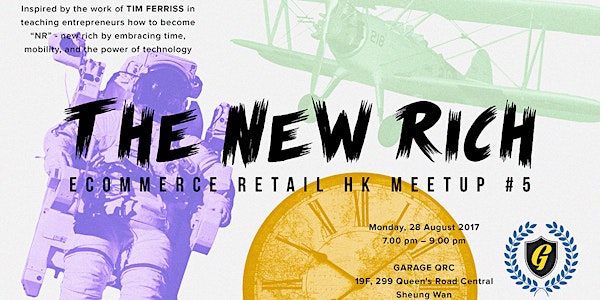 The NR (New Rich) - eCommerce Retail HK Meetup #5
When and where
Location
Garage Society QRC 299 Queens Road Central Sheung Wan Hong Kong, Hong Kong Island Hong Kong
Description
The NR (New Rich) - eCommerce Retail HK Meetup #5
Join us at the fifth The NR (New Rich) - eCommerce Retail meetup in collaboration with Garage Academy for our monthly event to start your journey to automate your workflow, outsourcing menial tasks and creating an auto-pilot income stream.
Inspired by the work of Tim Ferriss in teaching entrepreneurs how to become "NR" - new rich, by embracing time, mobility and the power of technology, this series of meetups will be dedicated to focusing on how to achieve a 4-hour workweek and/or continue to grow your revenue as a 4-hour workweek NR in Hong Kong.Each month expect a series of lightning talks before opening up the floor for questions and networking drinks with the NR Community.
Rundown
7:10pm - Intro to the NR
7:30pm - First speaker
7:50pm - Q&A
8:00pm - Second speaker
8:20pm - Q&A
8:30pm - Recap & closing / networking
Agenda
Topic 1:
A Smart New Way to Save on International Payment with Fintech
Brief:
We'll be diving into the intricacies of money transfers, from tradition, to innovationa and savings that can be made through new financial technologies
Speaker : Andy Wong Head of Compliance, Asia InstaReM
Bio: Based in Hong Kong, Andy Wong currently leads the compliance programme in Asia for InstaReM across various jurisdictions. A seasoned compliance professional working across Singapore and Hong Kong over the last 14 years in the banking and financial industry, Andy has experience with several global listed financial institutions including BNP Paribas and Global Payments. He has held positions in leading licensing processes for a payments processing company in Hong Kong and also in assisting with the licensing process for a wholesale banking licensee in Singapore. Andy is proficient in the front-to-end on-boarding process and regulatory requirements in terms of anti-money laundering and counter-terrorism financing, as well as building the policies and processes required in a compliant financial organisation from ground up. Andy holds a Bachelor of Commerce from Australian National University. He was a speaker at the World SME Expo and conducted workshops at Cyberport in Hong Kong.
Topic 2:
Inventory Management Streamlined
Brief:
We're going to go over some basic inventory management basics that is required that we've seen that many new retailers do not understand. We'll also go over some of the accounting aspects of it as well.
Speaker: Kenny Chang, Cornerstone
Bio: Kenny Chang is a Taiwanese American that has worked in numerous industries throughout his career. He started off his entrepreneurial adventure in Peru in petroleum equipment, then found himself in the private jet space in Hong Kong and Beijing. Eventually, found himself in Hong Kong servicing SMEs. He loves entrepreneurship and helping small & medium businesses thrive and succeed.