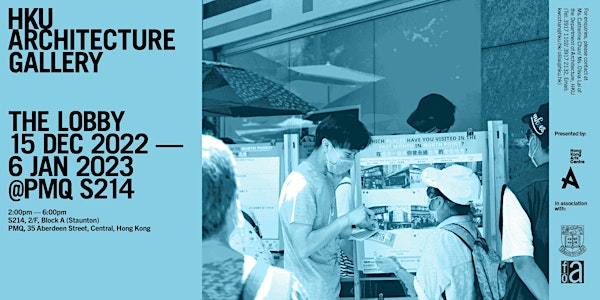 The Lobby | Exhibition @ PMQ |「The Lobby」元創方展覽
香港藝術中心與香港大學建築學系首次聯乘,為大家呈獻開放式辦公室 — The Lobby。
By HKU Architecture Gallery
Date and time
Thursday, December 15, 2022 · 2 - 6pm HKT
Location
S214, 2/F, Staunton (Block A), PMQ 35 Aberdeen Street, Central Hong Kong, HKI Hong Kong
About this event
As an inaugural collaboration between the Hong Kong Arts Centre (HKAC) and the HKU Department of Architecture, The Lobby is an outpost workspace, occupied by the HKAC Public Arts Team. Set up to reveal the complex process-driven art and cultural production, open office hours are created to cultivate transparent inquiries into the inner workings of an arts organization.
Tucked in the corner of PMQ, HKAC's cultural workers will set up a meeting place for collective building and proposals consultations, offering all forms of unsolicited advice. Recentering work-in-progress as an exhibition, The Lobby flips the conversation to intervene in the public sphere. By curating consultations, conversations and critiques, it is an exhibition that questions the current process of art production at HKAC.
Once evening hits, the Office will transform into the Lobby, hosting tea time and shared meal sessions to unveil the underlying whispers circulating in the art and cultural ecology. Together with HKU alumni, students and collaborators, we will relearn and unlearn the ever-changing vocabulary that drives the art and cultural ecology in Hong Kong.
Curatorial Team:
Taylor Cheng, Amber Lau, Ian Leung, Offy Leung, Nickole Li, Clarissa Lim, Jade Lui, Denise Yeung
In collaboration with:
Hong Kong Arts Centre
For enquiries, please contact at Ms. Clarissa Lim of Hong Kong Arts Centre (Tel: 2582 0225, Email: clim@hkac.org.hk).
This exhibition will observe social distancing measures set out by the government. Visitors can walk in but may be required to take turns to enter the gallery.
*Closed on 24-27 December, 31 December 2022, 1-2 January 2023.
—
Continuous Events
Consultation Clinic:
Come chat to Art and Cultural Workers from different disciplines to ask everyday questions! We are trained in comparative literature, surveying, media arts, arts, architecture, tourism and more!
Sign up for a consultation here
Teahouse of Many Stories with Ian Leung:
Our host Ian Leung, will be serving tea to the people he encountered in different communities in exchange for their stories. He will share his interesting findings from all the guests he served and most importantly the inspiring human stories that left a mark in one's life.
Come join and share space, tea and stories with our very own Senior Programme Manager, Ian Leung!
—
香港藝術中心公共藝術團隊與香港大學建築學系首次合作,為大家呈獻駐場工作室 — The Lobby。The Lobby 駐場工作室展示策劃藝術文化項目背後的千絲萬縷,同時亦邀請大家近距離了解藝術文化機構的內部運作。
The Lobby 將安頓在元創方的一角,形成聚會空間,建立社群和提供各種形式的諮詢和建議。The Lobby為「展覽」重新定調,聚焦於展示項目籌辦過程。透過各種諮詢、對話及評論,「展覽」旨在與大眾反思藝術中心當下的藝術生產過程。
而當入夜後,我們的工作室將化身成為「客廳」,舉辦茶聚及飯局,侃侃而談香港文藝圈的大小事物。我們將與香港大學校友、學生及其他合作團體聚首一堂,再學習和反學習,持續認識這個不斷演變的藝文生態圈。
策展團隊:
鄭銘柔、劉倬妤、梁偉然、梁嘉詠、李佳琳、林凱琍、雷晴、楊梓晴
協辦:
香港藝術中心
如有任何查詢,歡迎聯絡藝術中心林凱琍小姐(電話:2582 0225,電郵:clim@hkac.org.hk )
此展覽遵守政府規定的社交距離措施。參加者可進內參觀,但或需輪流進入展廳。
*展覽將於2022年12月24-27日、12月31日、2023年1月1-2日休息。