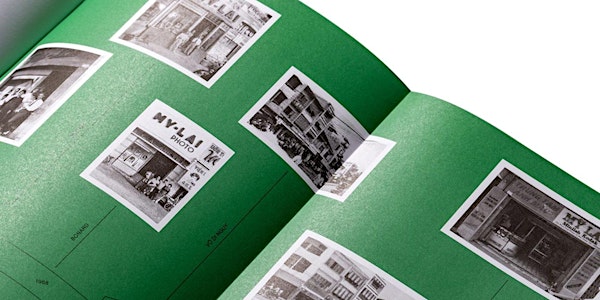 The Joy and Challenges of Publishing Photobooks in Vietnam
HKIPF 2022 Weekend Market Public Programme - Sharing hosted by Matca
When and where
Location
L7-20, Jockey Club Creative Arts Centre 30 Pak Tin Street Shek Kip Mei, KOW Hong Kong
Refund Policy
Contact the organiser to request a refund.
About this event
In this talk, Matca's co-founder and editor Linh Pham and Ha Dao will share the joy and challenges of publishing photobooks in Vietnam through their experience of conceptualising and producing experimental, open-ended publications under the imprint Makét, the Vietnamese pronunciation of 'maquette', a rough draft or preliminary model. Its first edition titled A Vietnamese Photography Village (2019) traces the emergence of studio photography from the small village of Lai Xa on the outskirts of Hanoi, and the second From Here On Out (2022) is a collection of four bodies of work that ranges from animal-infused liquor jars to small-town life, and deserted landscapes to Vietnamese experiences in Switzerland. While each project is different, they are all made possible by fostering collaborations with local partners and navigating various constraints, be it logistics, finances, or censorship.
This event will also be available on Zoom. The Zoom link will be sent to you after your Eventbrite ticket registration.
Speaker bio
Ha DAO grew up on the outskirts of Hanoi. Inspired by strange incidents that occur in everyday life, her photographic works take an imaginative approach to documentaries and are built upon close observations mixed with loose associations. Her works have been featured and exhibited in Photoworks, Trans Asia Photography Asia, Manzi Art Space, Xie Zilong Museum, Objectifs Centre of Photography & Film, among others. In 2022, she received the Higashikawa Award in the Overseas Photographer category. Since 2017, Ha has been serving as the managing editor and programme coordinator at Matca.
Linh PHAM is a photographer based in Hanoi. In his practice, he explores the human condition in the Lower Mekong, a region affected by social transformation, rapid economic growth, and domestic conflicts — all with a contemporary touch that reflects his studies in art and design. Although working internationally, Linh in his personal works often returns to present day issues linked to Vietnam's past. He is a frequent contributor to Getty Images, The New York Times, and National Geographic, amongst others. In 2016, Linh co-founded Matca. He was named as one of the talents from Southeast Asia and Oceania by World Press Photo in 2019 and joined the 2022 World Press Photo Contest as a juror.
Admission
Deposit: HKD 50
*Refundable only upon attendance. The admin fee charged by Eventbrite shall be borne by participants. Absentees are not allowed for any refunds. Tickets are non-transferable.
Pandemic measures
1. Mandatory temperature check upon entry — participants with temperatures higher than 37.5°C will be denied admission.
2. All participants must wear a face mask at all times.
3. Maintain social distancing and avoid gatherings of more than four persons.
4. No eating or drinking inside the venue.
*This event is one of the Weekend Market public programmes.
Support HKIPF
Since its launch in 2010, HKIPF has served as a platform for diverse photographic expressions, bringing together overseas and local image makers to discuss manifold issues and perspectives. Through a wide range of programmes over the years, the Festival facilitates participation and learning for people of all backgrounds, promoting creative practices as means to deepen our connection with the environments we live in, and people we live with.
Sponsorships, corporate collaborations and donations of all sizes are vital in helping us stay on course with our mission and weather challenges ahead. Your contribution will go towards our operation, programme development and strengthening events accessibilities, and will have a direct impact in opening up greater opportunities for creative and innovative endeavours in Hong Kong.
HKIPF is organised by the Hong Kong Photographic Culture Association, a tax-exempt charity under section 88 of the Inland Revenue Ordinance. All donations received will form parts of the funding support under the Art Development Matching Grants Scheme of the Home Affairs Bureau. Donations of HKD 100 or above are tax-deductible.