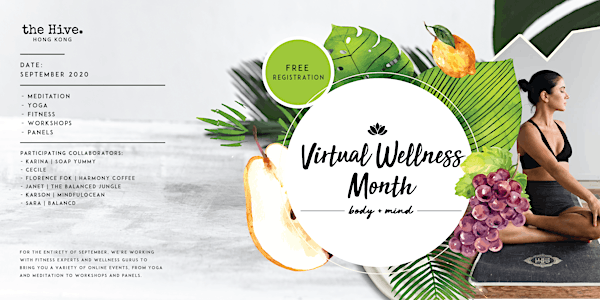 the Hive HK's Virtual Wellness Month
Welcome to the first edition of The Hive Hong Kong's Virtual Wellness Month!
Refund Policy
Contact the organiser to request a refund.
About this event
For the entirety of September, we're working with fitness experts and wellness gurus to bring you a variety of online events.
Focused solely on the health and wellbeing of both the mind and body, we've got weekly yoga classes, body weight workouts, meditation sessions, workshops on organic skincare, and even a panel on the benefits of CBD.
Stay tuned for our exciting lineup of collaborators and virtual classes!
Sept 1. 7:00pm | Fire Up that Core by Cécile
Sept 2. 9:00am | Back Care Yoga Flow with Janet from the Balanced Jungle
Sept 2. 11:00am | Coffee for Meditation
Sept 3. 7:30pm | "Unwind" Mindfulness Meditation with Karson
Sept 7. 7:00pm | Guided Meditation to Avoid Stress with Stephanie Luong from Reiki Vibes
Sept 9. 9:00am | Sweet Neck & Shoulders Yoga Flow with Janet from the Balanced Jungle
Sept 10. 4:00pm | Meaning Matters x Dr. Katie T. Larson, founder of GrowthQuests
Sept 10. 7:30pm | "Unwind" Mindfulness Meditation with Karson
Sept 14. 7:00pm | Full Upper Body Workout
Sept 16. 9:00am | Energising Full-Body Morning Yoga Flow
Sept 17. 7:30pm | "Unwind" Mindfulness Meditation with Karson
Sept 21. TBC | ChiLd
Sept 22. 6:00pm | Beauty Detox and Diet by Olga Vita
Sept 23. 9:00am | Happy Hips and Hammies Yoga Flow with Janet from the Balanced Jungle
Sept 23. 6:00pm | Panel: Breaking the CBD Stigma
Sept 24. 7:30pm | "Unwind" Mindfulness Meditation with Karson
Sept 26. 9:30am | Baduanjin Qigong by Grandmaster Lung, Professor Chung & Sara from Balancd
Sept 27. 12pm | DIY de-stressing Essential Oil Stick
Sept 28. 6:30pm | Intro to EFT - Emotional Freedom Techniques
Sept 29. 6:00pm | Sound Bath Meditation
Sept 30. 9:00am | Mellow Morning Yoga Flow with Janet from the Balanced Jungle
Sept 30. 6:00pm | SuperBrain by Olga Vita