【慘島藍調節 The Gloomy Island Blues Festival2019】 Overnight blues music festival
About this Event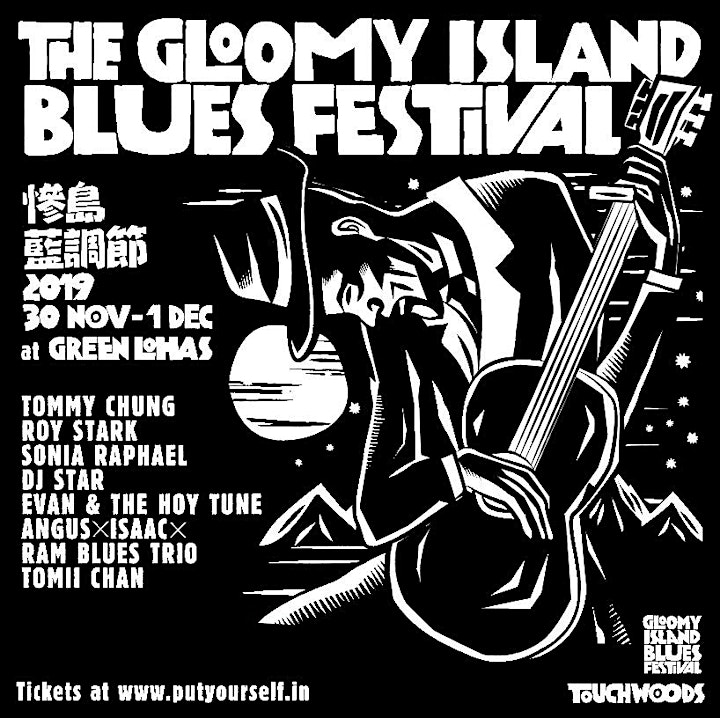 (Scroll down for Chinese version)
【Gloomy Island Blues Festival X Touchwoods – The Gloomy Island Blues Festival 2019】
The countryside was the birthplace of blues and all kinds of folk music. Black slaves eased their deep sorrows by humming blues and gospel tunes in the fields, lonely travellers sing folk songs by the campfire at night coping with the solitude. Unspeakable sadness, a raw scenery of the countryside are parts of the backbone of blues and folk music.
Bringing you the same wild spirit, we're proudly presenting "The Gloomy Island Blues Festival 2019" with our partner "Touchwoods"! The 2 days 1 night outdoor festival will bring you marvellous blues and folk music with handcraft workshops, blues dance classes and many more. With fine live music and starry sky, we look forward to spending a beautiful night with you!
Music lineup includes:
- The HK blues legend Tommy Chung
- The energetic power trio DJ Star
- The soulful Sonia Raphael
- The bluesman with the Delta touch Ray Stark
- The freaky, folky, and bluesy Evan Binkley & his group The Hoy Tune
- Local country, folk and indie rock singer-songwriter Tomii Chan
- The know-it-all bluesman Ram Cheung, the harmonica virtuoso Angus Tang and the slide guitar expert Isaac So
【Date】 30/11/2019 - 1/12/2019
【Venue】 Green Lohas (next to Kam Sheung Road Station)
【Tickets】 Concert Pass (Advance): $290, Concert + Camping Pass (Advance): $420
【Acts】 Tommy Chung, DJ Star, Sonia Raphael, Roy Stark, Evan & The Hoy Tune, Tomii Chan, Angus X Isaac X Ram Blues Trio
"Concert Pass" - To watch four bands in a night concert! "Concert + Camping Pass" - A night concert, a camping space, workshops, and a morning concert on 1/12.
Camps not included for "Concert + Camping Pass". Buyers can rent camps with a discounted price (15% off) on gogo-camp.com with our promotional code "bluesfest2019". Cargos to be picked up at the venue on the event date.
【Ticketing】
1. BUY ONLINE - Get your tickets at PUTYOURSELF.in with your credit card. Handling fee applies. Purchase link: https://www.putyourself.in/event/gloomy2019/.
​2. BANK TRANSFER - Please do a bank transfer with the needed money amount for the tickets to one of the following accounts. Message our Facebook page, or email us with your transaction record, and types and number of tickets purchased. We will reply to confirm. No handling fee.
HSBC
C*** W** Y**
814 275020 292
Bank of China
C***** K* M**
012 831 1 043705 8
​3. PAYME - Please transfer the needed money amount for the tickets to the following mobile phone number with the application PayMe. Also let us know the types and number of tickets you've purchased. We will reply to confirm. No handling fee.
The Gloomy Island Blues Festival
+852 9144 4556
【The Gloomy Island Blues Festival X Touchwoods - 慘島藍調節 2019】
鄉郊是藍調及各種民謠音樂的搖籃。曾經受盡壓迫的黑奴在阡陌田間藉藍調解鬱悶,晚上孤獨的旅人則在營火旁吟唱民謠來獲取慰籍。難以言喻的哀愁、蔓草荒煙的鄉郊境象,成為民謠藍調的寫照。
今年11月微涼的秋風下,今年「慘島藍調節」離開城市,仿佛回到百年前的美國,與露營發燒友「TouchWoods」聯手合作,將藍調帶進新界鄉郊草原,舉辦一場兩日一夜的戶外音樂節!我們以藍調與園野的謐靜和自己對話,任愁緒化成一縷青煙。草原藍調,人生幾何?放下都市的煩囂,期待在野外和你度過一個美麗的晚上!
慘島藍調節今年集結四方豪傑,除了目不暇給的工作坊外,誓要帶給你一場別開生面的音樂會,共同感受藍調音樂解愁舒懷的魅力。
強大的本地藍調及民謠音樂演出陣容:
.香港藍調殿堂級人物Tommy Chung
.強勁的藍調搖滾三重奏Dj Star
.擁有豐富靈魂與藍調底蘊的歌手Sonia Raphael
.富有三角洲藍調影響的藍調人Roy Stark
.帶點怪誕又富有藍調特色的民謠音樂人Evan Binkley及他的組合The Hoy Tune
.鄉謠/藍調/獨立音樂唱作人Tomii Chan
.精通多種藍調風格的Ram Cheung、口琴手Angus Tang以及滑弦結他專家Isaac So
【日期】 2019年11月30日 - 12月1日
【地點】 綠活城鄉(香港元朗錦田西鐵錦上路站)
【門票】 音樂會預售票:$290、音樂會+露營預售套票:$420
【音樂單位】 Tommy Chung、DJ Star、Sonia Raphael、Roy Stark、Evan & The Hoy Tune、Tomii Chan、Angus X Isaac X Ram Blues Trio
「音樂會預售票」-首晚音樂會入場票。「音樂會+露營預售套票」-首晚音樂會、露營場地、工作坊以及12月1號早上的音樂會。
「音樂會+露營預售套票」不連帳篷。買家可以憑優惠碼「bluesfest2019」於 gogo-camp.com 以85折租訂帳篷。活動當天於會場取貨。
【買票方式】
1.網上購票-於PUTYOURSELF.in以信用卡購票,平台將收取手續費。網購連結:https://www.putyourself.in/event/gloomy2019。
​2.銀行轉賬-請以銀行轉賬形式將購票所需金額存入至以下戶口,並將轉賬紀錄連同所購票種、數量資料寄至我們的Facebook專頁或電郵至gloomy.island.hk@gmail.com,我們會回覆作實。無需手續費。
HSBC
C*** W** Y**
814 275020 292
Bank of China
C***** K* M**
012 831 1 043705 8
​3.手機過數-請以手機應用程式PayMe將購票所需金額連同所購票種與數量寄至以下電話號碼,我們會回覆作實。無需手續費。
​The Gloomy Island Blues Festival
+852 9144 4556