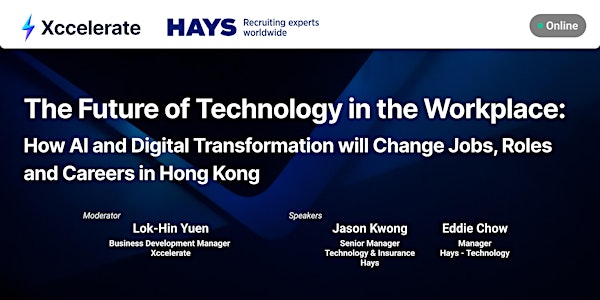 The Future of Technology in the Workplace
How AI and Digital Transformation will Change Jobs, Roles and Careers in Hong Kong
Date and time
Tuesday, April 25 · 4 - 4:30am PDT
About this event
Digital transformation is changing the way companies structure their manpower. Automation has become an integral part of businesses, but it is not the only way technology is reshaping job roles and skill requirements. This session will explore the latest trends and technologies that are transforming the job market, and how professionals can prepare themselves to remain relevant in the age of digital transformation.
Event Outline:
I. Introduction
Brief overview of the event and the topics to be covered
II. The Impact of Digital Transformation on Job Roles
The evolution of job roles and the impact of digital transformation
Jobs that are at risk of automation
New job roles that are emerging
III. The Skills Needed to Stay Competitive
The importance of reskilling and upskilling
The most in-demand skills in the current job market
The role of education and training in adapting to digital transformation
IV. Adapting to the Changes in the Job Market
Strategies for companies and individuals to adapt to digital transformation
The importance of a growth mindset
The role of mentorship and networking in career development
V. Q&A Session
Opportunity for attendees to ask questions and engage with the speakers
Key Takeaways:
Understanding of how digital transformation is reshaping job roles and skills
Awareness of the most in-demand skills in the current job market
Strategies for adapting to the changes in the job market
Insights into the role of education and training in career development
Networking opportunities with other professionals in the field
Target Audience:
This event is suitable for individuals who are interested in understanding the impact of digital transformation on job roles and skills. It is ideal for professionals in the tech industry, human resources, and anyone who wants to stay up-to-date on the latest trends and developments in the job market. The event is also relevant for companies and organizations that are undergoing digital transformation and want to learn about strategies to stay competitive.
Moderator:
Lok Yuen | Business Development Manager at Xccelerate
Guest speaker:
Jason Kwong | Senior Manager Technology & Insurance at Hays
Eddie Chow | Manager at Hays - Technology
Reach out to our admissions staff Whatsapp (+852 6883 8583) if you have any questions on our courses or how Xccelerate can help you achieve your goals.
About the organizer
Founded on the vision that the greatest opportunity for improving lives is education, Xccelerate aspires to reinvent tech education to address the colossal talent challenges in Artificial Intelligence, Software Engineering, Data Science & Machine Learning, Blockchain and UX Design. We drive outcomes for individuals and enterprises by leveraging expert instructors, proprietary curriculum and a unique blended learning pedagogy.
Our campuses pioneer teaching innovation with graduates forming a unique talent pipeline for leading start-ups and MNCs to solve hiring challenges. Our learning and training platform empowers other organisations to keep ahead with technology acceleration.
Till date, Xccelerate has trained 3,500+ professionals and boasts a 91% hiring success rate in our immersive programs. We have powered enterprise training and graduate placements to various industry leaders including IBM, Johnson Electric, CX, AXA, Veolia, Zeroth.ai, Standard Chartered, and ANX.