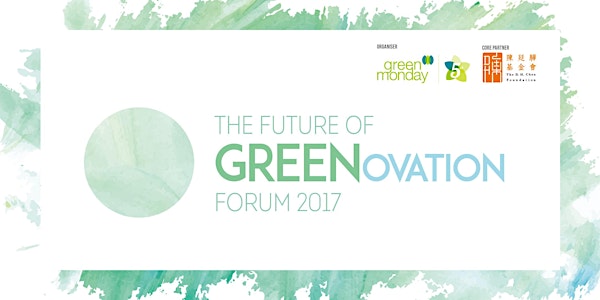 The Future of GREENovation Forum 2017
When and where
Location
The Annex 2/F, Nan Fung Place 173 Des Voeux Road Central Central Hong Kong
Description
The Future of GREENovation Forum 2017
As a social catalyst for collective behavior change towards a more sustainable planet, Green Monday is
proud to present a strong line-up of entrepreneurs, impact investors and thought-leaders at the forum. They will be sharing their inspiring and innovate visions for a greener future.
Date: 21 April 2017 (Fri)
Time: Registration 9:30, Forum 10:00 - 16:00
Venue: The Annex, 2/F, Nan Fung Place, 173 Des Voeux Road Central, Central, Hong Kong
Please refer to the e-brochure for detail event rundown: https://goo.gl/HZRjTl
* * * * *
Key Speakers:
Alexis Fox, Chief Empowerment Officer, Lighter
Alexis Fox is the CEO (Chief Empowerment Officer) at Lighter, a powerful platform that helps the world eat better. Lighter shows people what food to buy and how to throw great meals together based on the recommendations of leading health care providers, top athletes, and other food experts. The platform has been used in 130 countries and is partnered with some of the most innovative organizations of our day.

Daphne Cheng, Haute Plant-based Vegan Chef
Daphne Cheng is a pioneer in haute, plant-based cuisine. With her hyper-sensitive palate and creative vision, she challenges the status quo, focusing the culinary spotlight on fresh, seasonal vegetables as the centerpiece of a meal. After almost 7 years reimagining the New York dining scene, Cheng recently moved to China, setting her sights on changing the way 1.4 billion people eat and live.

David Yeung, Co-Founder, Green Monday
David Yeung is the co-founder and CEO of Green Monday, a social venture founded in Hong Kong that takes on climate change and global food insecurity through public advocacy, impact investing, corporate consulting, and specialized retail. David has also launched Green Common, the world's first plant-based green living emporium. Green Monday is named by Fast Company as "Top 50 Most Innovative Companies in China," while David is named by Fast Company as "100 Most Creative People in China".
Edward Zhu, Founder & CEO, CHIC Group
Edward Zhu, founder and CEO of CHIC Group, has more than 20 years' business experience as an entrepreneur, manager, leader, financier, investor, supply chain management expert and manufacturer. Edward's strategic vision has led his international team to drive excellence across diverse industries, including food, agriculture and medical equipment sectors. Edward is also an Honored Executive MBA graduate of CEIBS and a guest lecturer at CEIBS in Shanghai.
Dr. Irene Lo, Practicing Specialist Surgeon & Author
Dr. Irene Lo is a practicing specialist surgeon in Hong Kong. As a vegan in the past 20 years, she is now working closely with local vegan and environmental concerned related organizations as honorary medical advisor. She is actively involved in many public health seminars, talks and public media interviews. She has published a book 《我醫我素: 健康素食小百科》. Her vision is to bring health to humankind, at the same time a peaceful world to all our animal friends and the earth.
Liam Collette, General Manager, PizzaExpress Hong Kong, UAE, Singapore and Franchises
Liam has been a familiar personality at PizzaExpress for many years, having worked at the PizzaExpress UK head office for 6 years and leaving his role as International Finance Director to move to Hong Kong in May 2016 to take on new responsibilities for company owned Hong Kong, UAE and Singapore as well as current and future international franchisees. With a truly international background, Liam is committed to building a global brand which caters for its local markets at the same time as introducing an authentic taste of pizza in style.
Nicki Briggs, MS, RDN, Founder & President at NEAR BOIL, Brand Marketing & Communications Leader, Food & Nutrition Expert
Recognized as one of PRWeek's 40 Under 40 'Trailblazers to Watch', Nicki Briggs is a driven brand marketing leader and passionate food and nutrition expert, with over 15 years of food and hospitality experience. As the Founder of Brooklyn, NY based NEAR BOIL Brand Communications, Nicki acts as a strategic advisor, board member, consultant, and interim marketing leader for food and technology startups as well as mid- and large- scale organizations.
Peter Strugatz, Principal, Strugatz Ventures, Inc.
Peter Strugatz is an early member of the mission-driven business community as an entrepreneur and an investor. His ability to analyze and assess both impact and scalability led him to invest early in today's success sustainability superstars including Stonyfield Farm Yogurt and Zipcar. Peter's resume includes 16 years as CEO of manufacturing companies, 8 years as a full-time social angel investor, and 4 years of consulting and coaching mission-driven entrepreneurs and investors.
Prof. Richard Brubaker, Managing Director, Collective Responsibility; Visiting Professor of Sustainability, China Europe International Business School (CEIBS)
Richard Brubaker has spent the last 15 years overseeing the development and execution of more than 200 projects focused on solving the social, environmental and economic challenges that are faced in Asia. His work is centered around building foundations of knowledge, understanding core issues, engaging stakeholders, and doing what it takes to move forward.
Rob Trice, Founder, The Mixing Bowl & Better Food Ventures
Rob Trice is the Founder of The Mixing Bowl & Better Food Ventures. In 2013, he began to leverage his background in telecom, mobile and Internet venture capital to the application of information technology to the food and agriculture sectors. Rob previously worked at Swisscom Ventures, SK Telecom Ventures, Nokia Growth Partners and Nokia Venture Partners (now BlueRun Ventures).
* * * * *
For event enquiries, please contact +852 3708 9186 or janice.chan@greenmonday.org / kelly.chen@greenmonday.org.
---
Terms & Conditions
1. Payment for any types of ticket is non-refundable.
2. Green Monday has the right to change event date, duration, content and speakers.
3. In case the event is cancelled due to bad weather condition, we will inform all participants by email notice.
4. In case of any dispute, Green Monday Foundation Limited reserves the right of final decision.