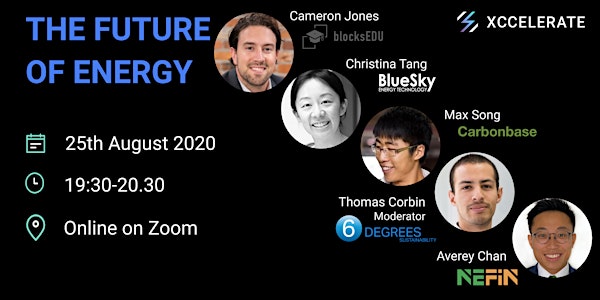 The Future of Energy
Panel with Averey Chan, Christina Tang, Cameron Jones, Max Song & Tom Corbin
About this event
Scientists agree that human activity is causing serious changes to our climate and that we need to drastically lower our emissions in order to avoid a catastrophic climate breakdown. Getting there will require the world's largest sector and biggest producer of greenhouse gas emissions to make great changes, involving and affecting businesses and individuals at large.
Join us in an exploration of different approaches, from renewable energy to smart building and energy efficiency and a discussion of public policies, market mechanisms and where Hong Kong finds itself on the pathway towards a clean energy society.
About the speakers:
Max Song
Entrepreneur, Data Scientist, Schwarzman Scholar
Max loves problem solving and the thrill of thinking on his feet. A former data scientist and founder of the Global Solutions Festival, he now is a venture partner at PCG, where he conducts research into cutting edge fields and technology, interacts with companies, and looks for ways to build dynamic and valuable relationships. He has recently been focusing his attention on understanding sustainability post-Covid19, and the impending climate change crisis, as well as ways to build products and services to address climate change.
Max graduated from Brown University, and was selected as part of the first batch of Schwarzman Scholars, where he completed a masters at Tsinghua University, and wrote his thesis on US-China cross border investment opportunities for renewable energy.
Cameron Jones
Division Head, Innovation and Sustainability at BlocksEDU
Cameron is an experienced project manager with a demonstrated history of working in the environmental sphere and a passion for Corporate Social Responsibility. With BlocksEDU he is developing university courseware in Sustainable Energy Technology and Corporate Social Responsibility for the industries of tomorrow.
He has worked with the Government of Alberta where he was a Director of Project Management and successfully led multiple projects under the Government of Alberta's Climate Leadership Plan. He holds a Master's of Science in Sustainable Energy Policy and has published on both Renewable Energy Markets and Carbon Mitigation Technologies. He was elected Vice President of the Young Professionals in Energy (YPE) in Alberta where he organized a number of sold-out events on climate change and emerging technologies. Prior to Alberta, Cameron worked with the UK Energy Research Centre and helped contributed to energy policy development for the Government of the United Kingdom. He serves as an advisor to Flash Forest Inc., YPE, and the Okanagan Zambia Health Initiative.
Christina Tang
Director and Founder, Blue Sky Energy Technology
Blue Sky Energy Technology creates sustainable building and lively community. Their specialty is in smart sensor deployment, data-driven analytics and user engagement. They provide building data services and engagement consultancy spanning hardware, software and engagement of building users to increase community values, and empower teams to proactively optimize the environment for well-being and energy usage conservation. With proven track record in 100+ active sites in HK, BJ and SH, their clients include property developers, public institutions and global corporates.
At present, Christina also serves in the Energy Advisory Committee and Advisory Council on the Environment of the Hong Kong SAR Government. Previously, Christina worked as a management consultant with Bain & Company and as a Global Fellow with Acumen. She is a graduate of Brown University with honors and double degree in Environmental Science and Economics, and pursuing a Master in High Performance Building.
Averey Chan
Business Development, NEFIN Group
Mr. Averey Chan is a business development and engineering lead at NEFIN Group, a regional solar developer delivering carbon neutrality to multi-national corporations throughout Asia Pacific.
Founded by the core management team of DuPont Solar Business, legal experts and investment bankers, NEFIN Group has collectively delivered over 300MW of utility-scale, commercial and industrial rooftop solar systems regionally. NEFIN's mission is to achieve carbon neutrality for companies. The group offers consulting services such as due diligence, feasibility studies and lender-technical advice on top of project development, system design, engineering and asset management. NEFIN Group also offers flexible financing options to partners who opt for zero investment. Please refer to NEFIN's website www.nefinco.com for more information.
Averey graduated from Imperial College London with a Master's Degree in Materials Science & Engineering. As a top student of his cohort, he was awarded the Hong Kong Scholarship for Excellence for his international studies. Averey was also awarded an exchange studentship at the Massachusetts Institute of Technology to research lithium-ion batteries.
Moderator:
Tom Corbin
Founder of RH-Software, Software Engineer, Architectural Designer
Tom worked in architecture for five years, where he lead the design for projects in England, Singapore and Macau. His passion for parametric design and complex algorithms led him to excel in software engineering and formulated his ambitions to develop applications that will cement sustainability into our culture.
He is currently the founder of RH-Software, a company that aims to use the impact and reach of technology to create a better world. Thomas spends his time developing practical and beautiful applications like 6Degrees, that aim to solve the greatest social, cultural and environmental problems of our generation.