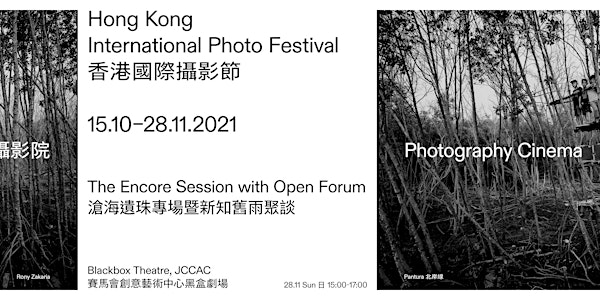 The Encore Session with Open Forum 滄海遺珠專場暨新知舊雨聚談
The Encore Session with Open Forum 滄海遺珠專場暨新知舊雨聚談
When and where
Location
Blackbox Theatre, Jockey Club Creative Arts Centre 30 Pak Tin Street Hong Kong, KOW Hong Kong
Refund Policy
Contact the organiser to request a refund.
About this event
In a blink of an eye, we're coming to the end of this year's Festival, also the end of another challenging year. Before temporarily parting with our Festival audience and participants, we would like to invite everyone — filmmakers, photographers, critics, viewers, alumni, to join us at this encore session and revisit some of the works screened early on during this Festival. We welcome new and old friends to come by and tell us what you think about our programme; your favourite parts; what you would like to see more of at HKIPF. We hope to garner your help and involvement to make greater progress in facilitating the development of photography in Hong Kong.
一年即使不容易也過去,轉眼間二〇二一香港國際攝影節就吿一段落。在暫別各位觀眾及參與者之前,讓我們邀請各方朋友,無論是觀眾、評論人或創作者,一同回望今年有什麼滄海遺珠或值得一再審視的。希望各攝影節新知舊雨一同到臨,交換近況之餘,也就攝影節活動乃至未來路向分享意見,順帶展望攝影香港之未來。
Date 日期:28.11.2021 (Sun 日)
Time 時間: 15:00-17:00
Language 語言: In multiple languages with English and Chinese subtitles. Discussion to be conducted primarily in Cantonese. 多種語言,設英中文字幕;聚談主要以粵語進行
入場 Admission:隨喜樂捐 Pay as you wish
***為其他觀眾著想,預訂門票前請先確定您的時間,如需退票請及早處理,切莫造成公共資源浪費。
***部份作品只限年滿18歲或以上之觀眾欣賞
***Plan your schedule before booking a ticket. If you wish to cancel your booking, please be considerate and do so in advance to free up spaces for others and avoid wastage.
***Some works are restricted to persons aged 18 or above only
場地規則及防疫措施
進行活動前需量度體溫,發燒者不能參與活動
場地內進行活動必須配戴口罩
所有人員盡量分開,保持社交距離,4人限聚
不可飲食
如有違法,須自行負上法律責任
Venue Regulations and Health Safety Measurements
Any person entering JCCAC must wear a self-provided face mask and sanitise their hands. A thermal detector has been installed at L1 Wai Chi Street entrance, which is remotely monitored by the Centre security staff, who may request to check again any individual's body temperature if needed.
Any person who fails to cooperate as requested, or displays fever (forehead temperature above 37.5C), fatigue, cough, diarrhea, vomiting or other flu-like symptoms will be refused entry or asked to leave JCCAC.
All persons entering JCCAC must abide by the "Prevention and Control of Disease (Prohibition on Group Gathering) Regulation" (Regulation) gazetted by the Government, including but not limited to the extension of the "congregation restriction" which prohibits groups of more than 4 persons to gather in public, with effective from 24 February 2021.
Eating and drinking is not permitted.
Any person who violates the law will bear legal responsibilities.
「 香港國際攝影節 2021」獲香港特別行政區政府「藝術發展配對資助計劃」及香港旅遊發展局「本地特色旅遊活動先導計劃」的資助
"Hong Kong International Photo Festival 2021" is financially supported by the Art Development Matching Grants Scheme of the Government of the Hong Kong Special Administrative Region and the Pilot Scheme for Characteristic Local Tourism Events of the Hong Kong Tourism Board
此活動內表達之任何意見或建議,並不代表香港特別行政區政府、香港旅遊發展局或本地特色旅遊活動先導計劃評審委員會的觀點。
The opinion or recommendations expressed in any activities organised under this event do not reflect the views of the Government of the Hong Kong Special Administrative Region, the Hong Kong Tourism Board, or the Evaluation Panel of the Pilot Scheme for Characteristic Local Tourism Events.