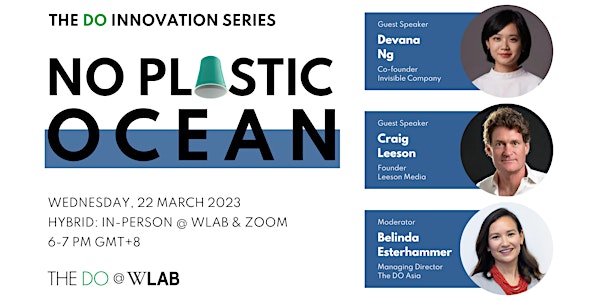 The DO Innovation Series: No Plastic Ocean
How does plastic pollution shape Hong Kong's environment? Join us for a lively conversation and how you can contribute to the solution.
Date and time
Wed, 22 Mar 2023 18:00 - 19:00 HKT
Location
The DO @WLAB Area A, Flat A-D, 1/F 196-198 Tsat Tsz Mui Road Quarry Bay, HKI Hong Kong
About this event
Hong Kong disposes over 2,300 tonnes of plastic waste a day. With a recycling rate of about 10%, most of it goes into landfills. Compared to other forms of waste, plastic waste adds one-fifth to our daily garbage in Hong Kong. We must change.
6 years ago, award-winning film director, Craig Leeson documented the consequences of plastic waste in our oceans as well as pointed out solutions. A Plastic Ocean created big impact showcasing one of Hong Kong's most pressing issues: plastic waste. Climate activists, entrepreneurs and changemakers stepped in with their innovative ideas and actions.
Looking at 2023 and beyond - are we on the right track? Or have we fallen behind?
Join us for the lively conversation with Craig Leeson and Devana Ng, co-founder of Invisible Company led by Belinda Esterhammer and explore:
How does plastic pollution shape Hong Kong's environment?
Are we doing enough climate action as a society?
What are the recent innovations around alternative plastic and where are the gaps and bottlenecks?
At what speed change is happening and how you can contribute
Join us in person at WLAB or on Zoom from anywhere in the world.
Dare to take action? You are invited to join the Beach Cleanup following the conversation this spring. Stay tuned for more details.
About the organiser
The DO combines a lifelong learning institution and an advisory firm for accelerating a new economy that is sustainable, innovative and equitable. We help organisations to empower their employees and activate the firm to change with speed. We are a platform that builds empowerment programs and ecosystems around the big challenges of our time.