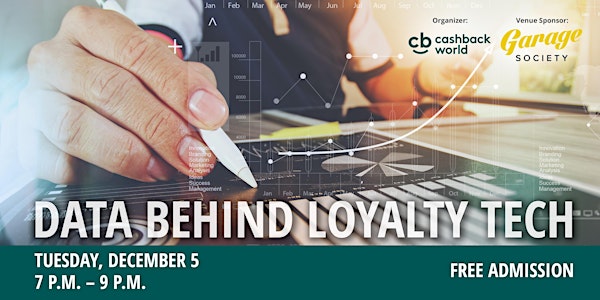 The Data Behind LoyaltyTech
When and where
Location
Garage Society Sheung Wan 19F 299 Queen's Road Central Sheung Wan, Hong Kong Island Hong Kong
Description
What is data? A swimmer counts their strokes, a runner counts their steps, an accountant counts money, it's all the same process. They're all just collecting data so that they know how to improve. In our panel discussion organized by Cashback Solutions, we will focus on the tech that will automate tasks, jobs, and decisions for loyalty programs.
With our experienced panelists, leading data scientists with expertise in customer loyalty, join us to get inspired and learn how companies get their frontline teams to act in a way that builds customer loyalty and drive faster growth.
Panelists
1) Big Data Expertise - Arthur Chan, SagaDigits
Arthur Chan is the founder of SagaDigits, providing Big Data solutions to businesses and thus effectively improving people's life. He worked on projects such as predictive analysis for finance and commercial enterprises, designing an online-and-offline Big Data project to improve distributor performance for a global company, and implemented a WeChat Big Data user analysis for a top 50 Chinese company
2) CRM Expertise - Martin Millefors, Millefors Media
Martin Millefors worked in Marketing for SMEs for 10 years. He is located in Sweden but travels a lot and has his business in several countries today, helping clients improve their sales and marketing with data monetization in loyalty programs.
3) Digital Marketing Expertise - Anita Chan, Ahsay Systems Corporation Limited
Anita Chan is a seasoned marketer with over 15 years of experience in business development, including service & solution development, branding and marketing. She served many different multintional companies, including IBM, Sun Microsystems, and Fuji Xerox in the Greater China region.
Currently, Anita is Head of Product Marketing in Ahsay Systems Corporation Limited, the world's leading backup software vendor leading production marketing through e-commerce & digital marketing activities globally.
She holds a MBA degree in Marketing from the University of Paisley, Scotland and Professional Diploma in Digital Marketing from Digital Marketing Institute & Certified as Inbound Marketer.
4) Data Scientist - Isaac Wong, DXC Technologies

Isaac Wong is the Principal Data Scientist for the Analytics Practice of DXC Technologies in Asia, helping clients generate actionable insights from business intelligence, analytics and big data technologies. Isaac has more than 18 years of analytics experience as an in-house analytic practitioner, driving analytic initiatives for AML, pricing, marketing, sales management, and CRM in different organizations.