Description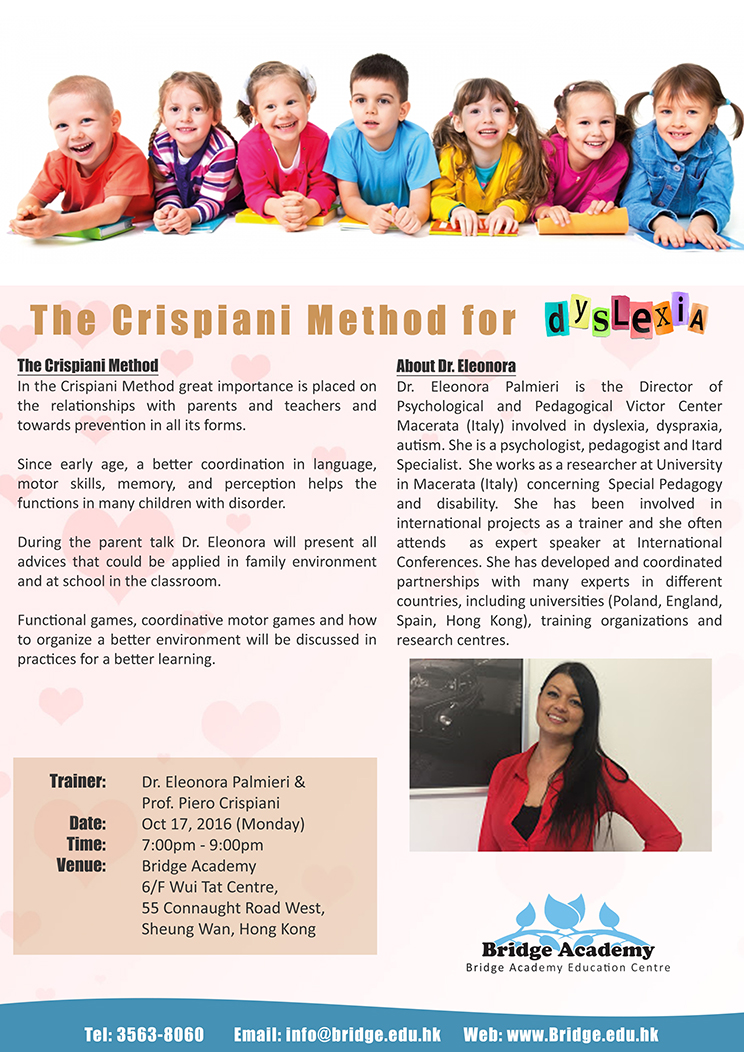 ---
The Crispiani Method
In the Crispiani Method great importance is placed on the relationships with parents and teachers and towards prevention in all its forms. Since early age, a better coordination in language, motor skills, memory, and perception helps the functions in many children with disorder.
During the parent talk Dr. Eleonora will present all advices that could be applied in family environment and at school in the classroom. Functional games, coordinative motor games and how to organize a better environment will be discussed in practices for a better learning.
About Dr. Eleonora
Dr. Eleonora Palmieri is the Director of Psychological and Pedagogical Victor Center Macerata (Italy) involved in dyslexia, dyspraxia, autism. She is a psychologist, pedagogist and Itard Specialist. She works as a researcher at University in Macerata (Italy) concerning Special Pedagogy and disability. She has been involved in international projects as a trainer and she often attends as expert speaker at International Conferences. She has developed and coordinated partnerships with many experts in different countries, including universities (Poland, England, Spain, Hong Kong), training organizations and research centres.
Trainer:
Dr. Elonora Palmieri & Prof. Piero Crispiani
Date:
Oct 17, 2016 (Monday)
Time:
07:00pm - 09:00pm

Venue:
Bridge Academy
6F, Wui Tat Centre, 55 Connaught Road West, Sheung Wan