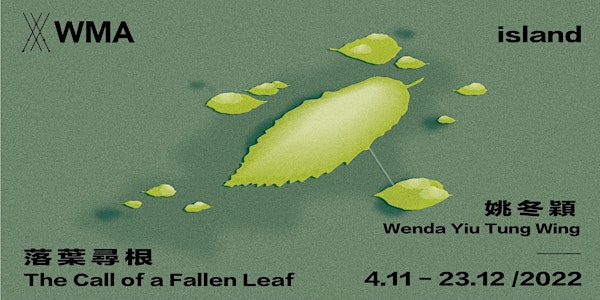 落葉尋根 The Call of a Fallen Leaf
根,成了我們連繫地方的方式。那麼透過尋溯植物的根,是否便能了解一個地方的前世今生?
When and where
Location
WMA Space 8/F, Chun Wo Commercial Centre 23-27 Wing Wo Street Hong Kong, HKI Hong Kong
About this event
落葉尋根 ― 姚冬穎個展
周麗珊策展
我們常以「扎根」來形容立足一個地方,也以「連根拔起」來形容割捨一個地方。根,成了我們連繫地方的方式。那麼尋溯島嶼上的根葉,是否便能了解一個島嶼的前世今生?
延續群展「隔離(個)島」對島嶼隔離性的各種反思,是次個展進一步考究奇力島、欖洲、鐵篸洲等十九個因着城市發展而消失的島嶼。姚冬穎一直以香港的島嶼為創作核心,並留意到越來越多的島嶼因填海而被夷平或連陸。新作《秘島拾遺》利用她於這些新闢的人工土地所撿拾的落葉為素材,藉此保存和叩問島嶼存在的痕跡。此外,姚氏亦擴展其入圍 WMA 香港攝影比賽2019 「機遇」的攝影系列《這麼近,那麼遠》。她於這些島嶼與連接的陸地昔日各自的邊界處各拍一張照片,繼而以生硬的方式並置兩地,凸顯島嶼生態與城市發展之間的拉鋸。島嶼上的盤根落葉,亦化身成多畫作上的線條。姚氏以虛實相間的線條,重構地圖上既抽象又具體、既考古又虛構、既消失又重現的海岸線,從而勾勒島嶼數十年的變遷。
是次展覽亦梳理了一系列姚冬穎研究時所參考的文獻,其中包括姚氏尋獲的落葉,亦有其從多個官方檔案庫搜羅的歷史圖片和文章。當中部分島嶼只尋得極少量的紀錄,因此我們亦希望藉此邀請公眾一起建立這些島嶼的文獻庫。每一道拾遺,都有助我們進一步推展姚氏的創作,繼而勾起我們對這些寂寂無聞的島嶼的記憶和想像。
讓我們以落葉尋根,也以落葉歸根。
The Call of a Fallen Leaf: A Solo Exhibition by Wenda Yiu
Curated by Chloe Chow
We often use the term 'rooted' to describe one's gaining of a foothold in a place, and 'uprooted' as one's parting with it. Roots have therefore become a living metaphor of how human beings connect with places. If we are to trace the entrenched roots and fallen leaves on islands, are we then able to grasp the stories of the islands' past and present?
As a sequel to the group exhibition 'Island(ed)' that reflected upon the isolated nature of islands, 'The Call of a Fallen Leaf', a new solo exhibition by Wenda Yiu, further investigates 19 islands that have disappeared as a result of urban development. These include Kellett Island, Lam Chau and Tit Cham Chau. Yiu has noticed that more and more islands have been flattened or linked to the mainland due to reclamation. As an attempt to preserve and interrogate the traces of existence of these disappeared islands, Yiu visited the artificially reclaimed lands and collected fallen leaves that constituted her new work, Memorandum of the Secret Islands. Yiu has also continued to expand her photography series, This Close, That Far, which was shortlisted for the 2019 WMA Open Photo Contest. In this series, Yiu took photographs at the sites that constituted the former boundaries of the island and the mainland, and juxtaposed them in a rigid manner to highlight the tension between island ecology and urbanisation. The entrenched roots and fallen leaves on islands are also transformed into contours in different paintings. Through the alternate use of hard and soft lines, Yiu reconstructs the maps' coastlines that are at once abstract and material, archaeological and fictional, disappearing but reappearing at the same time, as a way to outline the islands' coastal changes over the past decades.
The exhibition also consolidates a series of archival materials that Yiu has referenced in her research. These materials include the native plants that she gathered as well as the historical photographs and articles that she collected from multiple institutional archives. As very limited records exist for some of these featured islands, we invite the public to join us in constructing an archival database for these islands. Each of these findings will help to further develop Yiu's work, and in turn evoke our memory and imagination of these unnamed islands.
Let us seek our roots with fallen leaves, as they return to where it all began.