Description
You are invited to join me in The Asian Male 3.AM book launch and signing. The photographs were collected over a period of 7 years, featuring Chinese, Japanese, Korean, Thai, Filipino, Albanian-Cambodian men from Singapore, Malaysia, USA and Thailand. The photography is testament to the beauty of Asian faces and their physiques in a personal vision that explores external beauty, sexuality in youth, bondage and nudity. Forty-one men grace the pages of 3.AM, with a careful selection of 76 images that bring both contemplation and questioning for the status quo.
DATE: THURS, 20 NOVEMBER, 2014
TIME: 7-10PM
COST OF THE BOOK: $500
BOOK LAUNCH AND SIGNING EVENT

VENUE: CULTURE CLUB
15 ELGIN STREET, CENTRAL, HK
Information:
Norm Yip 68388948
nwy@normyip.com
http://normyip.com
http://theasianmale.com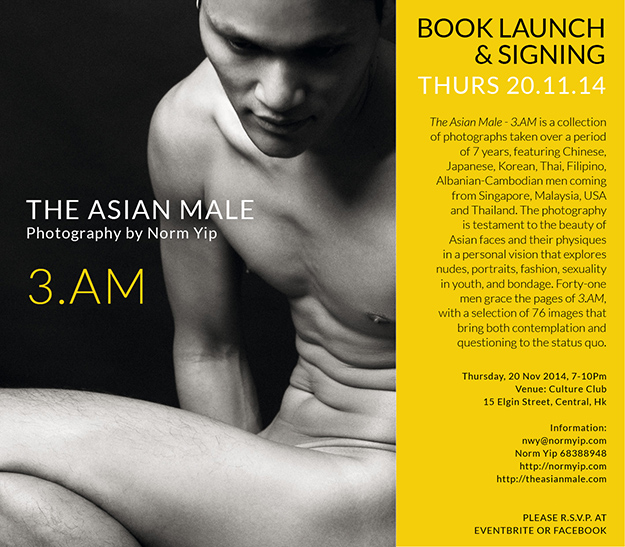 Organiser of THE ASIAN MALE 3.AM - Book Launch & Signing
Norm Yip is a photographer, artist and publisher. Norm's photography of Asian men was first published in early special editions of Blue magazine, namely Dreamboys 2 and 2Blue. His photography of Asian men has appeared in numerous publications, most recently The Romantic Male Nude by James Spada and The Best of International Nudes Photography III by Feierabend Unique Books. His clients include The Hong Kong Trade Development Council in photographing the 2013 Hong Kong Dance Festival, Arena Swimwear 2013 Campaign (Asia), and The Art Newspaper for Art Basel Hong Kong He has had the privilege of photographing notable celebrities such as director Zhang Yi Mou, performing artists Ricky Martin, Jennifer Lopez, Jamiroquai and Rain. Norm has exhibited in Hong Kong, Bangkok, Zurich and New York.

http://normyip.com (Photography)

http://yipfungart.com (Paintings)