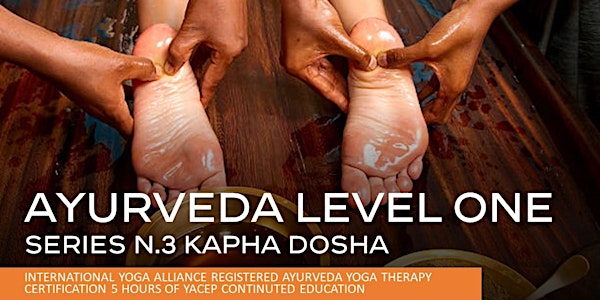 The Art of Healing: Ayurveda Level One 5HR Certification Workshop
Balance between Love & Attachment: Ayurveda Workshop Series 3 on the Earth element of Kapha dosha
When and where
Location
Vata Yoga Ayurveda Yung Shue Wan Main Street Lamma Island, NT Hong Kong
About this event
This special 5HR certification workshop provides you the doorway to the divine spiritual medicine called Ayurveda of 5,000 years old wisdom.
Are you interested in finding a more natural path to achieve health and wellness? Do you believe that everything we need to stay longevity should be cost-free and can be sourced from the mother nature? Do you suffer from long-term allergy, immunity disease or chronic illness that western medicines cannot solve all your issues?
You will learn about Ayurveda in a sense that was taught by ancient Rishis (saints) and apply to your daily life or integrate the knowledge to your class/ teaching.
We welcome you to join us to learn more about this beautiful way of living called Ayurveda. This will be our 3rd series of our 5HR certification course that you can register with Yoga Alliance as part of your continued education credits. This will also be my last workshop in Hong Kong before I leave in mid Jan 2023.
This Series N.3 is all about the water and earth elements: Kapha dosha - an element that we all have to cultivate love, intimacy, compassion and serving others. Winter is also a Kapha season when emotions and weights are built up if we don't pay attentions to our mind & body. Kapha is sweet in tastes and it also carries a lot of Sugar quality. It can become sticky, like additional mucus stored in our organs and tissues. Let's learn more about this "LOVE" dominate dosha and how we can balance it with our life style tips.
We'll learn about below topics spending our afternoon together on Lamma:
1. Recap on Ayurveda principles
2. Kapha dosha and its meaning
3. Nadis and Marma (Chinese Accupuncture Points)
4. Application of Abhyanga - Oil Massage
5. Demonstrate best suited Pranayama, yoga poses to pacify Kapha dosha imbalances (Diabetes, sluggish and heaviness, over-weight, grief, sadness and attachments)
Investment: HK$1,350 per person, $1,150 for alumni students, including certification, massage oils and herbs blend for individual use
Rapid test is required for each person before attending this workshop. No refund/ date change will be available upon confirmation but can be transferred to another individual. If you wish to send the fees via PayMe or FPS, please get in touch by email vatayogaltd@gmail.com to settle offline.
Thank you and send you lots of light and love.
Nameste,
April
Do reach out if any more information.
Founder of Vata Yoga HK
www.vatayogaretreat.com
vatayogaltd@gmail.com