The 2nd ELCHK Joint School Concert 2019 (For Lutheran Academy ONLY)
The 2nd ELCHK Joint School Concert 2019 provides the opportunity for students to share with us their talents and passion for music.
About this event
[For Lutheran Academy parents only]
If you are interested in purchasing the ticket(s), please note the following:
1. Only online ticket purchasing is accepted. Each ticket is HK$30.
2. Tickets are subject to availability on a first-come, first-served basis.
3. Ticket order shall be made by 15 November 2019 (Friday) 5pm.
4. Children under three-year-old will not be admitted.
5. Each purchase is limited to two tickets.
6. No parking is available at the Concert venue.
7. A confirmation email from ELCHK Head Office will be sent within two working days after the ticket order is submitted. Parents shall bring along the confirmation email and settle the ticket payment by cash (exact amount) at the Student and Administration Office within three working days (Monday to Friday, 8:30am to 5pm) after receiving the confirmation email. The ticket order will be cancelled if payment is not made within three working days.
8. Purchased tickets will be distributed to your child in early December.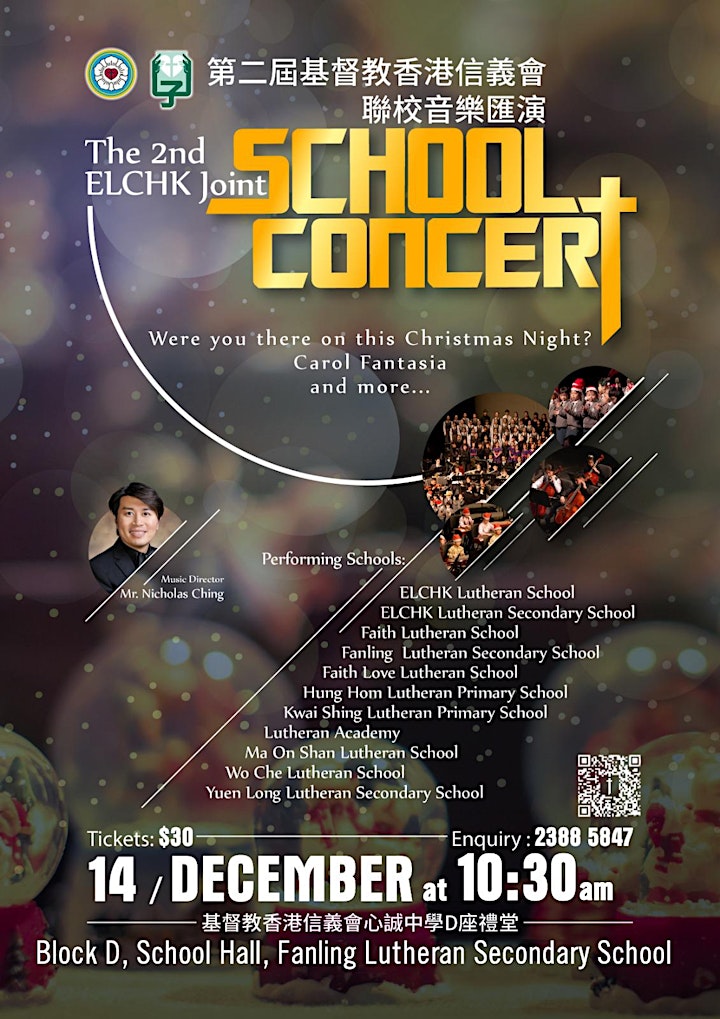 Organiser of The 2nd ELCHK Joint School Concert 2019 (For Lutheran Academy ONLY)