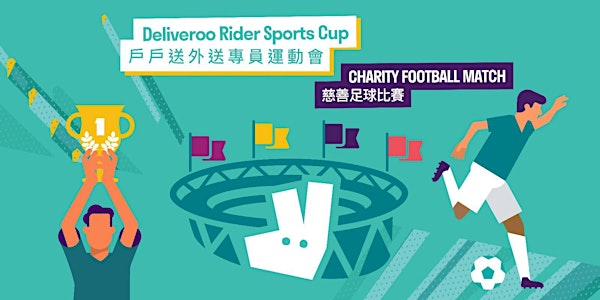 【The 2nd Deliveroo Rider's Sports Cup 第 2 屆戶戶送外送專員運動會】
慈善七人足球比賽 7-a-side Charity Football Match
When and where
Location
Victoria Park 維多利亞公園, Causeway Bay 銅鑼灣 1 Hing Fat Street Hong Kong, HKI E3 5TB Hong Kong
About this event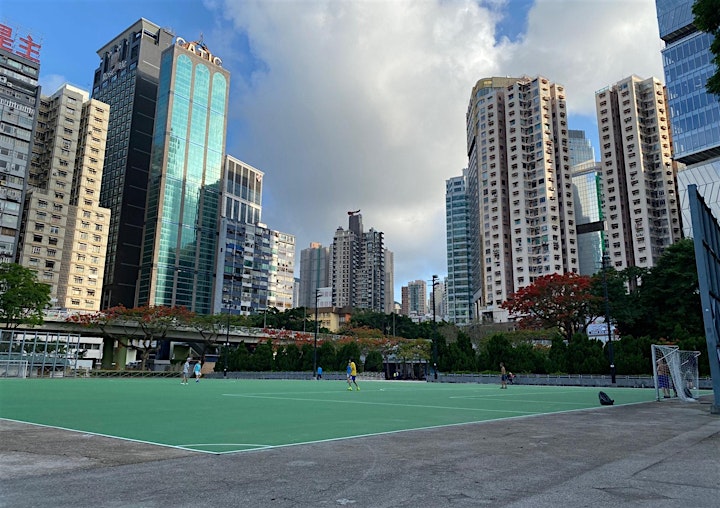 Organiser 主辦:Deliveroo 戶戶送 X Feeding Hong Kong 樂餉社
戶戶送暖 足動全城
Deliveroo's annual Sports Cup is back! With the FIFA World Cup back this year, to coincide with this prestigious global event, Deliveroo will be holding a 7-a-side charity football competition for Sports Cup. Providing Deliveroo riders an opportunity to both enjoy the fun of sports and make friends along the way, while advocating and promoting football culture.
To continue with Deliveroo's devotion to play an active role in communities in need, for every successful applicant, Deliveroo will donate HKD100 to Feeding HK. We urge all Deliveroo riders to apply and do a good cause! All donations made will be given to Feeding HK, for collecting, sorting, and storing food leftovers from companies' across HK, before distributing them to various local charities. The full donation raised will not be deducted to cover any event expenses.
一年一度的戶戶送外送專員運動會又到啦!適逢四年一度的世界杯,為切合世界杯前哨戰雀躍的比賽氣氛, 今年度的運動會將舉辦慈善七人足球比賽 。從而提倡及推廣足球運動,讓戶戶送外送專員享受運動的樂趣及促進彼此之間的友誼,更可以將快樂延續給有需要的人。每一位成功報名的參賽者戶戶送將捐出港幣 100 元正予樂餉社,並鼓勵戶戶送外送專員踴躍參加,共襄善舉。是次籌募所得經費將不會扣除活動任何開支, 全數善款將撥捐至樂餉社用於收集、分類、儲存食品公司的剩食,再轉送到多個本地慈善機構務。
Date 比賽日期:
05 / 10 / 2022 (Wed 星期三) - Preliminary round 初賽
12 / 10 / 2022 (Wed 星期三) - Final Round 決賽
Time 比賽時間:09:00 - 18:00
Venue 比賽地點:Victoria Park, Causeway Bay 銅鑼灣維多利亞公園
1. Eligibility 參賽資格:
All interested Deliveroo riders are welcome to take part in the competition.
Participants must be aged 18 or above.
歡迎有興趣的戶戶送外送專員參加。參賽者必須年滿 18 歲。
2. Grouping 組別:
Mixed-gender Team (teams can be full male, full female, or mixed gender )
Team Size : 7 - 12 ppl
男女混合組隊 (可以為全男、全女、或男女混合參賽)
隊伍人數:7 - 12 人
A) Team Application 組隊參賽:
Each team shall only be allowed to fill not more than 12 qualified players from the players list.
每隊最多可填報球員 12 名。
B) Individual Application 個人參賽:
Deliveroo will randomly assigned by lottery according to the number of applicants in each zone.
戶戶送會因應各區外送專員的報名人數隨機抽籤分配隊伍。
3. Quota 名額:
Each team can submit a list of 12 players (including 1 captain).
每隊名額為 12 人,名額有限先到先得,額滿即止。
4. Fees 費用:
Free 免費
Format & other rules 賽制及其他規例
EN: https://riders.deliveroo.hk/en/sports-cup-2022
ZH: https://riders.deliveroo.hk/zh/sports-cup-2022
Enquiries: If you have any questions, please contact us through Rider Website
https://riders.deliveroo.hk/en/support/contact-us/how-do-i-contact-rider-support
查詢電話 : 如有任何疑問,請透過戶戶社區聯絡我們
https://riders.deliveroo.hk/zh/support/contact-us/how-do-i-contact-rider-support