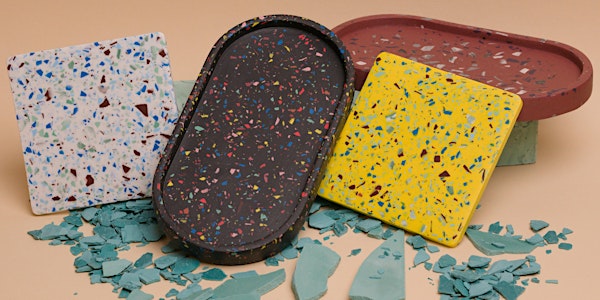 Terrazzo Workshop- 水磨石工作坊
Create your own terrazzo coaster and jewelry tray! It is a fun activity for all ages! You can also make your own earrings for additional $50
When and where
Location
the Hive Kennedy Town 12P Smithfield 10F HONG KONG, HKI Hong Kong
Refund Policy
Contact the organiser to request a refund.
About this event
Hand craft your own Terrazzo jewelry tray and coaster! With infinite color combinations, your creation is one of a kind! Its also perfect for a personalized gift.
The whole process of making both coaster and tray takes around 2 hours, and you can bring your creation home to use immediately. It is easy and no special skills or qualifications are required.
手工製作您自己的水磨石首飾托盤和杯墊!憑藉無限的色彩組合,您的創作獨一無二!它也非常適合作為個性化禮物。
工作坊需時大概 2 小時,作品可即日帶走。
Details
Base price includes making one 10x10cm coaster and one 18x10cm jewelry tray per person. The coaster and tray can have different color combinations
Add $50 to make 1 pair of earrings. The earring will be the same color as the coaster. It will take an additional 15 to 30 minutes. There are 3 available shapes for the earrings as shown in the picture. The earring shape is subject to availability. There is only 1 type of earring hook as shown in the picture. There are no clip-on earring clasps available.
細節
基本價格包括每人製作一個 10x10cm 杯墊和一個 18x10cm 首飾托盤。杯墊和托盤可以有不同的顏色組合
加多$50可以製作耳環一對。耳環會跟杯墊一樣顏色配搭。如圖所示,耳環有 3 種可用形狀。耳環形狀視供應情況而定。如圖所示,只有一種耳環掛鉤,沒有夾式耳環扣。做耳環需要多15 到 30 分鐘的時間。
Time and Venue
Start at 3 :pm, Approx 2 to 2.5 hours
Participants should arrive 10 minutes before the workshop starts. The workshop will start on time. Late comers who arrive 15 minutes past the workshop time will be refused entry, and no refund/rescheduling will be offered.
Venue: 10f, Cheung Hing Industrial Building, 12P Smithfield, Kennedy Town. It is located near Exit A, Kennedy Town MTR station.
時間和地點
下午3點至.530點 時長:約2-2.5小時
地點:堅尼地城,士美菲路12P,祥興工業大廈,10/F.
Cancellation/ Rescheduling Policies for Public Workshop
A minimum of 5 participants are required to run a workshop. If there are not enough participants the night before the workshop, we will cancel the workshop and notify all the participants in the morning of the workshop. The fee will be refunded the next business day.
Payment: Full payment to confirm the booking, at least 2 calendar days prior to workshop.
Cancellation policy: 10 dar days prior to the workshop. We will refund the full amount if cancellation is made before that date. After that date, there will be no refund if cancelled.
公共工作坊取消/改期政策
至少需要 5 名參與者才能舉辦研討會。如果工作坊前一天晚上沒有足夠的參與者,我們將取消工作坊並在工作坊早上通知所有參與者。費用將在下一個工作日退還。
付款: 全額付款以確認預訂,至少工作坊前 2 個日曆日。
取消政策:工作坊前 10個日曆日。如果在該日期之前取消,我們將全額退款。在該日期之後,如果取消,將不予退款。
Adverse Weather
Typhoon 8 on the day of workshop: If the signal is still in force by 12 noon, then the workshop will be rescheduled within a month. If the signal is lowered before 12 noon, the time of workshop will remain unchanged.
Black Rain: Same arrangement as Typhoon 8