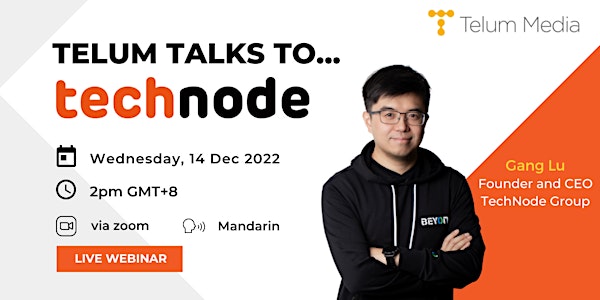 Telum Talks To… Gang Lu, Founder and CEO of TechNode
Don't miss out on Telum's upcoming exclusive tech-focused webinar with Gang Lu (Technode) happening on Wednesday, 14 Dec 2022 at 2pm GMT+8!
About this event
In this exclusive conversation with Telum Media, Gang LU, the founder and CEO of TechNode Group, will discuss the tech scene in China and globally as well as the many opportunities for PR professionals.
Agenda:
• TechNode News Agenda, Content Structure and Key Sections
• Two key focuses of TechNode: Overseas companies in China and Chinese companies going overseas
• Review and Forecast: Redefine the tech coverage
• How can companies hit the sweet spot in landing tech-related coverage?
• Some Innovations TechNode has done beyond a media organisation
• Tips: Case studies of great PR pitches with tech media
Details
Date: Wednesday, 14 December 2022
Time: 2pm GMT +8
Language: Mandarin
About the speaker
Dr. Gang LU, the founder and CEO of TechNode Group which runs the leading tech media in China and Asia - TechNode and TechNode Global. He is one of the most recognised influencers from Asia in the global tech space. He's also the co-founder of BEYOND Expo. Dr. Lu got his Ph.D. in wireless communications from the University of Sheffield, UK; He's honored with "National Advisor" of UNIDO China, and received the Entrepreneurial Award of the British Council's Study UK Alumni Awards in 2017-18.