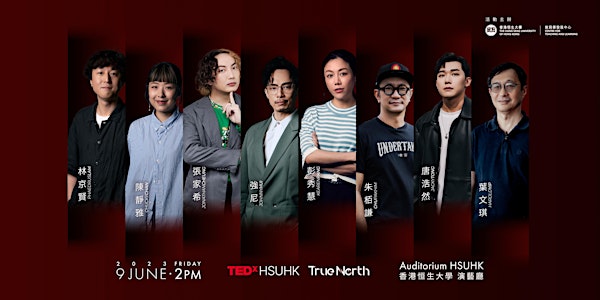 TEDxHSUHK 2023 — True North(6月9日 下午2點|9 June, 2 pm onwards)
「你找到了屬於自己的True North嗎?」 "Have you found your True North?"
Date and time
Starts on Friday, June 9 · 2pm HKT
Location
The Hang Seng University of Hong Kong Hang Shin Lane Siu Lek Yuen Shatin, NT 852 Hong Kong
About this event
門票即日起於Eventbrite公開發售:
TEDxHSUHK 2023 — True North
日期 📅:2023年6月9日(星期五)
時間 ⏰:下午2點正開始
地點 📍:香港恒生大學 袁炳濤校園 D座 利國偉教學大樓 2/F 演藝廳
語言 🗣️:廣東話
售價 💰:$60(恒大在學學生 / 職員)/ $120(公眾人士)
到場觀賞名額:250
指定購票平台:Eventbrite
門票數量有限,售完即止;活動將同時開放予公眾人士於TEDxHSUHK官方YouTube頻道收看直播。
訂閱TEDxHSUHK官方YouTube頻道:https://youtube.com/TEDxHSUHK
追蹤 Instagram 帳號:https://www.instagram.com/tedxhsuhk
讚好 Facebook 專頁:https://www.facebook.com/tedxhsuhk
Tickets are now available for sale on Eventbrite:
TEDxHSUHK 2023 - True North
Date 📅: June 9th (Friday)
Time ⏰: Starting at 2pm
Location 📍: Auditorium, 2/F, Lee Quo Wei Academic Building (D Building) , Yuen Campus, HSUHK
Language 🗣️: Cantonese
Ticket Price 💰: $60 (HSUHK students and staff) / $120 (public)
In-person attendance limit: 250
Designated ticketing platform: Eventbrite
Tickets are limited and will be sold on a first-come, first-served basis. The event will also be streamed live on the official TEDxHSUHK YouTube channel for the public.
Subscribe to the TEDxHSUHK YouTube channel: https://youtube.com/TEDxHSUHK
Follow us on Instagram: https://www.instagram.com/tedxhsuhk
Like our Facebook page: https://www.facebook.com/tedxhsuhk
About the organizer
Everything happens for a reason. 
Find your reason. Make it happen.