TEDxCivicExchange Kick-off - Asian Green New Deal
The kickoff event of TEDxCivic Exchange, a series of virtual gatherings to introduce HK to workable climate solutions. ​
About this event
Co-organized by Civic Exchange, HKUSTEC, and SUSTAINHK, TEDxCivic Exchange will introduce Hong Kong to community leaders working toward climate solutions for our city via a series of virtual gatherings that include presentations, panel discussions, and case studies. TEDxCivicExchange prides in its focus on pushing for systemic change, providing a platform for policymakers, businesses, and civil society to collectively launch Hong Kong's pathway to climate transition.
TEDxCountdown is a global initiative from TED to champion and accelerate solutions to the climate crisis, turning ideas into action. Civic Exchange holds one of three licenses in Hong Kong to host a local chapter.
Our theme is "Our Time is Now for Climate Action". Our COUNTDOWN to a better future starts now.​
Check out upcoming TEDxCivic Exchange events here: https://www.hk2050isnow.org/event/tedxcivicexchange/
Our Mission Statement - #OurTIMEisNOWforClimateAction
The IPCC has urged we not exceed 1.5°C of warming above pre-industrial levels globally. As of 2019, we are at 1.1 degrees. We need a green and just transition for our society, and we need it now. ​Therefore, we need a collective vision for a green recovery and ambitious action to achieve this in HK and beyond. ​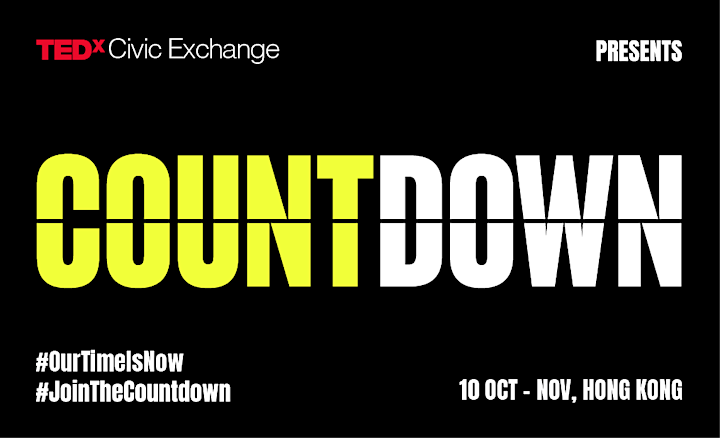 Kick-off Event - "Asian Green New Deal": Exploring Policies for a Green and Just Future (English Only)
14 October 2020 (Wednesday) 8:00-10:00 PM
An Online live panel discussion, followed by Q&A
Inspired by the New Deal, U.S. President Franklin D. Roosevelt's socioeconomic reform proposals, the "Green New Deal" is a proposed package of legislation that aims to address climate change and economic inequality, championed by U.S. Congresswoman Alexandria Ocasio-Cortez and Senator Ed Markey.
As the European Commission, the executive branch of the European Union, leads a proposed "European Green Deal", what coordinated actions are possible here in Asia? What would an "Asian Green New Deal" look like, and how feasible would it be?
In "Asian Green New Deal": Exploring Policies for a Green and Just Future, the headlining event kicking off the TEDxCivicExchange Countdown program, we will be featuring policy experts from Hong Kong, Taipei and Malaysia to attempt to answer those very questions, by sharing best practices from around the world and their own policy recommendations.
All three speakers have extensive experience in policy research, working in conjunction with their respective governments and esteemed think tanks, and have been named Global Shapers by the World Economic Forum for their work in environmental sustainability.
Join us to explore how we can build a green and just future for our region!
Please register via Eventbrite for a ticket to participate in the Q&A via Zoom. We will be livestreaming the event on Facebook as well, but all interactions (e.g. polls, Q&A) will only be conducted in Zoom.
Check out upcoming TEDxCivic Exchange events here: https://www.hk2050isnow.org/event/tedxcivicexchange/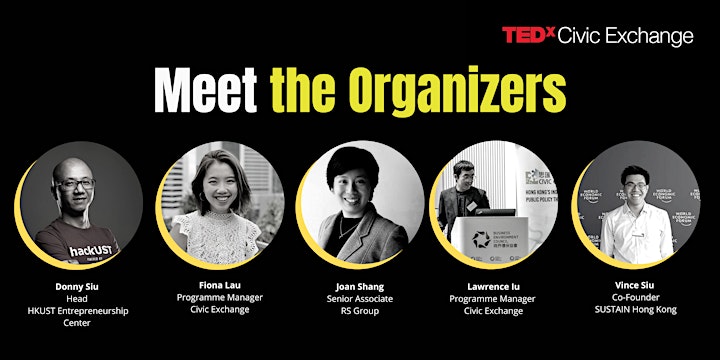 Civic Exchange is one of Hong Kong's most established policy think tanks, using in-depth research and dialogue to inform policy and engaging stakeholders on addressing environmental and development challenges in Hong Kong.
CEx convened HongKong2050IsNow, a partnering initiative supporting Hong Kong's transition towards carbon neutrality.
SUSTAINHK is the Global Shapers Hong Kong hub's environmental sustainability project, focusing on climate action through increasing awareness of climate science and best practice sharing between the private and corporate sectors.
HKUST Entrepreneurship Center (EC), established in 1999 initially as Entrepreneurship Program, is a center to support innovation and entrepreneurship in the campus. It runs activities and funds to foster an entrepreneurial campus and cultivate a risk-taking value-creation mindset.
Organizer of TEDxCivicExchange Kick-off - Asian Green New Deal