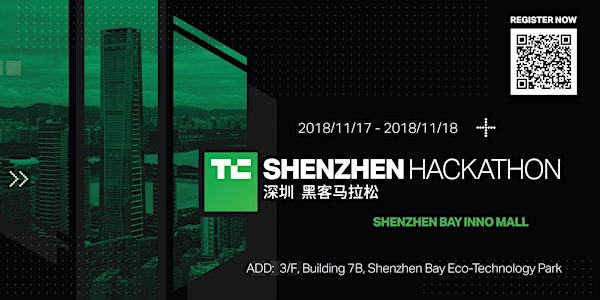 TechCrunch 2018 Shenzhen Hackathon
When and where
Date and time
November 17, 2018 · 9am - November 18, 2018 · 4pm CST
Location
Shenzhenwan Science and Technology Ecological Garden, Nanshan, Shenzhen, Guangdong, China Shenzhen, Guangdong 518057 China
Description
LET'S BUILD THINGS HAVE FUN AND IN 24 HOURS

Attention all developers, designers and all other tech creators in Shenzhen. The TechCrunch China Hackathon is returning to Shenzhen on Nov 17-18 at the Bay Eco-Technology Park 深圳湾科技生态园 and we want you the talented to put your ingenuity to the test and build something awesome in just 24 hours!

Plus every hacker who successfully submit their project receives a two-day TechCrunch Shenzhen 2018 pass (valued 1299 RMB), a certificate of honor and a souvenir t-shirt.
Address: 3/F Building 7B Shenzhen Bay Eco-Technology Park
Any questions? Please write to event@technode.com.
---
THE CHALLENGES
1 - NO LIMIT

We have prepared 15 special prizes, for the winning team, as well as most innovative team, the most valuable team, and the team that completes their product most. You can build whatever you come up with within 24 hours.

2 - Sponsored by Ontology

Ontology is a high-performance public blockchains and a distributed trust collaboration platform. Ontology multi chain framework provides customized public blockchain systems for various of industries/scenarios/companies in their own chains. These independent chains are also able to collaborate with each other among chain network with Ontology modules &protocol groups (cross-chain/identity/date exchange/reputation/sign).
Anyone takes Ontology Challenges as follows
Try to build an application for real-world scenarios using modules provided byOntology – digital identity and/or data exchange (DDXF).
Try to enhance Ontology modules (OWallet, DID, OEPs, ) by adding new features/functions/GUIs or create new ones for whatever cases that you assume to be valuable.
Try to enhance Ontology blockchain explorer with rich functions designed for dAppsoverview and detailed view, also with highly customizable interface which is adaptable for real world business (both public and private chains).
Will have a chance to win the special Ontology prizes
First Prize: 10,000 USD in ONT
Second Prize: 5,000 USD in ONT
Third Prize: 3,000 USD in ONT
The Best Creative Prize: 1,000 USD in ONT
The Best User Experience Prize: 1,000 USD in ONT
For technical manuals please check https://ont.io/
3. Arcblock

Build decentralized applications by using ArcBlock OCAP platform.
Being a next-generation blockchain technology, ArcBlock invented Open Chain Access Protocol, which allows users to use the similar interface to access data from different chains, so that they can "learn once, build everywhere". Right now ArcBlock OCAP platform has in-depth support for Bitcoin and Ethereum, with a wide variety SDK in different platforms (javascript, android, iOS, nodejs, python, etc), to enable developers to access data from the Blockchain easily.
The API provided by OCAP can be accessed through https://ocap.arcblock.io The detailed API doc and various SDKs could be accessed from: https://support.arcblock.io/hc/en-us/articles/360014254452-Getting-Started-with-ArcBlock-s-Development-Platform
4. TomatoWallet
Building payment tools based on the application platform framework of the TomatoWallet,
On the architecture of the cloud wallet, the TomatoWallet for the first time realize the bitcoin red envelope function without the need for block confirmation with zero second. The TomatoWallet 3.0 App introduces the concept of a dual-core wallet, with a centralized cloud wallet and a decentralized HD wallet, which can solve the small transfer fee problem and realized the speed transfer function.

For technical manuals please check https://fanqieqianbao.com/ (The site is in Mandarin)

5. Dapp.com & CryptoKitties & Animoca
Develop an Ethereum based decentralized application (dapp) utilizing the CryptoKitties API
CryptoKitties is one of the world's first blockchain games. 'Blockchain' is the technology that makes things like Bitcoin possible. While CryptoKitties isn't a digital currency, it does offer the same security: each CryptoKitty is one-of-a-kind and 100% owned by you. It cannot be replicated, taken away, or destroyed.
You can get the API at https://docs.api.cryptokitties.co/


AGENDA
Saturday 17 Nov
9:00 am - Registration Opens
10:00 am - Official launch + Sponsors pitches
11:00 am - Matchmaking session
11:30 am - Coding starts/Lunch
6:00 pm - Dinner
8:00 pm - Late Night Snack
Sunday 18 Nov
8:00 am - Breakfast
11:30 am - End of code/Lunch
1:00 pm - 3:00 pm - Final demos
3:00 pm - 4:00 pm Jury deliberation / Winners announcement
About the organizer
Your go-to platform for what's happening in China's tech and startup ecosystems.
With a vast network in global innovation and entrepreneurship, China-based TechNode is in the center of a unique worldwide tech ecosystem of startups, venture capital firms, industry resources and corporate partners.
TechNode has six business units, including TN Media, TN Inno (corporate innovation services), TN Global (Asia), TN Events (branding and event services), TN Data (startup ecosystem database) and TN VC (venture capital and financing services). Through these initiatives, TechNode supports and bridges the startup ecosystem between China and the rest of the world. TechNode is also the exclusive China partner of TechCrunch.