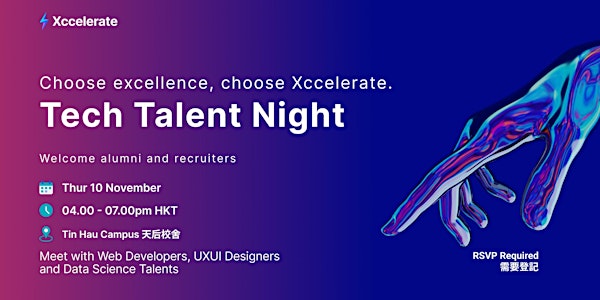 Tech Talent Night: Choose excellence, choose Xccelerate.
Meet ready-to-hire Technical talent in one convenient location.
When and where
Location
Xccelerate Campus, 3/F, Citicorp Centre 18 Whitfield Road Hong Kong, HKI Hong Kong
About this event
Xccelerate proudly presents graduates of our Data Science & Machine Learning, Web Development and UXUI immersive Bootcamps. Our talent comes from all walks of life, equipped with experience in different industries and a great passion for Tech.
If you are hiring Data Analysts, Web Developers or UXUI Designers, come meet ready-to-hire technical talents in one convenient location at our Xccelerate Talent Night!
We will share the company's contact details with our talent beforehand. It will then be up to our talent to kickstart the application process, by contacting the company directly through our tech job board. Make your company's profile and uploads your jobs now - https://jobs.xccelerate.co/
Event Format:
We are inviting companies to our campus where students will have adequately spaced booths showcasing their work, their final project. Company representatives can walk around, see different projects, interact with the students and find their new team members.
Why Hire Xccelerate talent?
Our graduates have 500+ hours of Technical Experience and effective practical learning. They apply their new skills to real-world problems and work with real datasets.
Technical skills they learn during the immersive bootcamps include:
Data Science and Machine Learning Immersive Bootcamp
Python, SQL, Machine Learning using scikit-learn, Deep Learning using Tensorflow and Keras, NLP, Recommendation Systems, Business Intelligence (Tableau), Data Engineering, Statistics & Modelling
Full-Stack Web Development Immersive Bootcamp
HTML​,​ CSS​,​ Javascript​,​ Bootstrap​,​ JQuery​,​ AJAX & DOM​,​ SQL​,​ Postgresql​ & Knex,​ React.js​,​ Express.js​,​ Redis​,​ Socket.io​,​ Vue​,​ Angular​,​ Sequalize, Restful API Creation, Passport Authentication, Token-based Authentication
Full-Stack UX Design Immersive Bootcamp
Figma, Adobe XD, Sketch, Quantitative & qualitative research, A/B testing, Heuristic analysis, Information architecture, Diary study, Demographic study, Prototyping, Wire-framing, Usability testing, Card sorting, User persona, User journey, User story, UI Design
Details:
📅 Thursday 10 November
📍 Xccelerate Campus3/F, Citicorp Centre, 18 Whitfield Road, Hong Kong
*Please register for this event to receive more details.
*Companies are advised to send us job descriptions in advance to make early introductions.