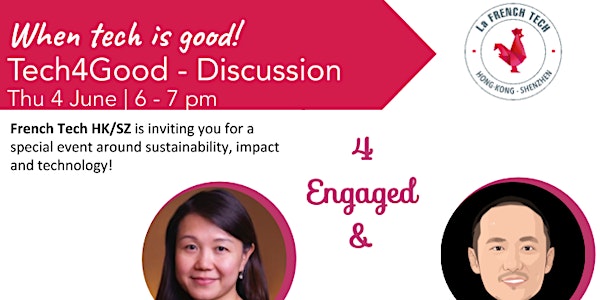 Tech for Good by French Tech HK/SZ
Sustainable Tech Conference with impact-driven entrepreneurs
About this event
When tech is good! Post Covid-19, now is the time to take sustainability and responsibility at the heart of our tech journey.
We are delighted to host a panel discussion with impact entrepreneurs ranging from the e-commerce to the finance industry.
All 4 speakers share a common mission: Drive sustainable changes with Technology.
Join us online for this Sustainable Tech Webinar on Thursday 4 June at 6 pm!
Agenda
Panel discussion: Moderated by Elvie Lahournère, Digital & Innovation Director @Natixis. Featuring Yoann Fol, Hervé Kozikila, Jason Tu, and Natalie Chan
- - - - - - -
About our speakers
Yoann Fol, Founder & CEO @Dathappy
Yoann founded a startup facilitating impact-driven Data Science projects and empowering people.
As a humanist and gloCalist, he is a defender of the triple-bottom-line principles and is always pushing for more ambitious social innovation leveraging technology when necessary.
Hervé Kozikila, Co-Founder & CEO @Feedelon
Hervé co-founded a Marketplace promoting sustainable brands (fashion, cosmetics, jewelry and home decoration).
The main goal is to promote brands with values who are showing another side of the industry by promoting local know-how, working with NGOs, having an impact on environment and communities.
Jason Tu, Co-Founder & CEO @MioTech
The premiere ESG data provider/data science expert in Asia.
Natalie Chan, Director @PIE
Natalie is passionate about driving sustainable changes and helping organisations define and deliver their strategies in creating shared value.
About La French Tech
We are startup founders, investors and community builders who believe in both growth and progress. We support startups through diverse startup programs, events, funding opportunities, policymaking and a powerful network of French Tech communities across world.
Find out more: https://hk.lafrenchtech.com/