About this Event
Yin at the wall to eliminate exhaustion - Tuesday 21st Jan
Need a break from the hustle? Take time out to rest, recover, and replenish with this wall-supported yin practice. You'll do legs up the wall, a wide-legged straddle, baddha konasana, malasana, reclined twists, sphinx, and more.
Enjoy the perspective Andrea offers, the slow transitions between poses, and this opportunity to take comfort in your breath.
Beginners friendly. All levels welcome.
Vinyasa 2020 - Wednesday 22nd Jan
This deconstructed sequence will start out slowly but building gradually in intensity. If you are new to Vinyasa, you'll learn foundational skills for moving confidently through a flow. If Vinyasa is already your go-to practice, you'll get the opportunity to tune up your skills and find even more stability and ease on the mat.
Unwind from your day: Relaxing Evening Practice - Thursday 23rd Jan
Join Andrea for a nice soothing practice that will relax your mind & body.We will center the practice on your breath and body, aligning both physically and mentally by practicing stillness and gentle movements concluding with a final restorative relaxation
Note: For this class you will need: 2 blocks
Beginners friendly. All levels welcome.
What to bring to the class:
- Yoga mat
- Drinking water
- Small sweat towel
- Any props you might use in your personal practice such as yoga blocks and/or yoga belts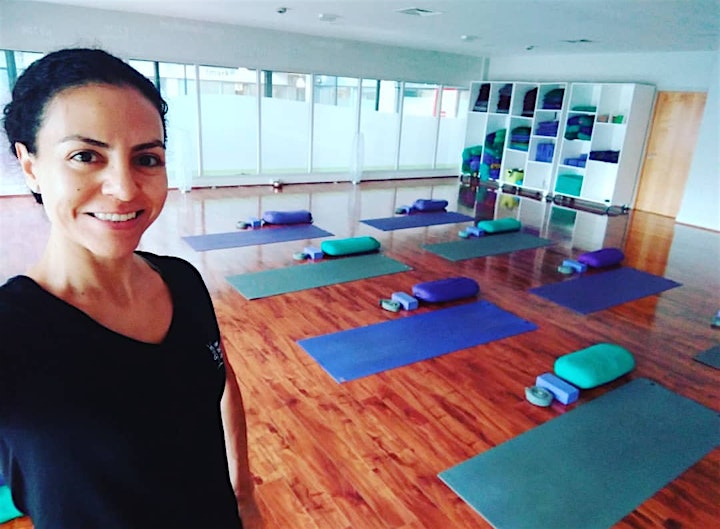 About Yoganicfit
Owner and Founder of Yoganicfit, Andrea started her Yoga journey 10 years ago, later going to India to study and learn this discipline directly from its source.
For her, the practice of Yoga is a long-life path and she has been returning to India every year to deepen her knowledge and continue her studies. In 2018 she decided to start up Yoganicfit to share the teachings, philosophy, benefits and tradition of Yoga, helping others to start their practice and keep going through their own journey.
She teaches a variety of yoga styles according to different people's abilities and needs, knowing that every individual's physical body is different from others and their life essence is always unique.
Her focus is on well-rounded practices integrating various elements of traditional Yoga with comprehensive and progressive methods that will help you to develop your own practice and will give you a broader understanding about Yoga.
To know more about her and about Yoganicfit, visit https://yoganicfit.com
Note: How to secure your free place? Simply register on Eventbrite by paying $100 deposit, then bring your confirmation email on the event day. We will refund your $100 at the end of the class.