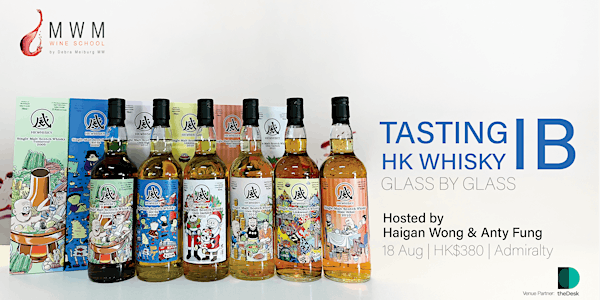 Tasting IB: HK Whisky Glass by Glass
Discover the multi-faceted sides of reputable Scotch distilleries! Independent Bottler (IB)
When and where
Location
theDesk United Centre 95 Queensway #5/F Admiralty, HKI Hong Kong
About this event
SCOTCH DISTILLERY BONANZA
Discover the multi-faceted sides of reputable Scotch distilleries! Independent Bottler (IB) whiskies are the wonderful culmination of bottlers' individualities and philosophies, topped off with distinctive distillery styles. They are often drawn from single casks and hand-picked by bottlers on the basis of quality and potential. With only a few hundred bottles produced per cask, IB whiskies are typically very limited in production.
WHAT'S ON
In this tasting, we will sample a comprehensive range bottled by HK Whisky, drawn from notable distilleries in Highland, Islay and Speyside.
Haigan Wong, Founder and Director of HK Whisky, will be there to share fascinating stories about the regions and distilleries, and provide tips on whisky investment.
Anty Fung, MWM Wine School Educator, will co-host a guided tasting and give expert commentary on pairing whiskies with food for various occasions.
Beyond the liquor, we will be appreciating beautiful labels adapted from "Old Master Q", the renowned and highly beloved classic Hong Kong comic strip by Wang Jiaxi, and also the works of renowned local artist Zoie Lam. Their vibrant colours and depictions of happiness are perfectly blended with the beautiful contents of the bottles, adding huge entertainment to the tasting experience!
About Hong Kong Whisky
Hong Kong Whisky was founded by a group of whisky connoisseurs across different industries who wanted to bottle this nostalgia. We continuously search all over Scotland for rare products to bring to likeminded clients and consumers. We proudly introduce our first line of whisky in collaboration with the classic Hong Kong comic "Old Master Q". Look out for more upcoming products that showcases more "威" whisky and local culture!