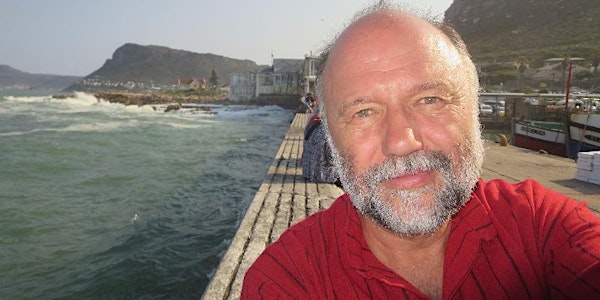 Talk by Andrei Kurkov - PEN Hong Kong's Literature and Human Rights Lecture
When and where
Location
Wang Gungwu Theatre, Graduate House, The University of Hong Kong The Jockey Club Building, No. 3 University Drive, HKU Hong Kong
Description
PEN Hong Kong's Literature and Human Rights Lecture
Talk by Andrei Kurkov
Soviet Union, Russia, Ukraine: What was and is the connection between literature and human rights?

Date: Wednesday 18 April 2018
Time: 7:00 p.m. - 8:30 p.m.
Venue: Wang Gungwu Theatre, Graduate House, The University of Hong Kong
Contact: Tammy Ho (vp1@penhongkong.org)


---
ABOUT ANDREI KURKOV
Andrei Kurkov has written 22 novels, including the bestselling Death and the Penguin, The President's Last Love and The Pilkman in The Night, as well as Ukraine Diaries – Dispatches from Kiev, a first-hand account of the Maidan protests. He is also a children's books author, with nine books for young readers written when he was a prison guard in Odessa, during Soviet times. His work has been translated into 37 languages.
He is vice-president of Ukrainian PEN and a member of the European Film Academy. Before becoming an internationally acclaimed author, he received 500 rejection letters, and self-printed some of his works.
In 2013, The Daily Telegraph wrote that Kurkov's novels are "full of a sort of parodic wisdom that you would be foolish to take very seriously and even more foolish to take entirely unseriously." Russian president Vladimir Putin seemed to take his portrayal in Kurkov's novel, The President's Last Love, so seriously that book disappeared from Russian bookstores for nearly two years after its release.
關於安德烈·庫爾科夫
安德烈·庫爾科夫寫了二十二本小說,包括暢銷作品《死亡與企鵝》,《The President's Last Love》,《The Pilkman in The Night》以及關於烏克蘭反政府示威的第一手資料《Ukraine Diaries – Dispatches from Kiev》。他亦是一位兒童書作家,曾於蘇聯時期的奧德薩擔任獄警,并在此期間著有九本青少年讀物。他的著作被翻譯成三十七種語言。
他是烏克蘭筆會的副主席及歐洲電影學會成員。在成為一名世界知名的作家之前,他收過五百封拒信,自費印刷過一些自己的作品。
2013年,《每日電訊報》認為庫爾科夫的小說中"充滿一種戲仿的智慧,若太嚴肅以對的確愚蠢,但一笑置之則更為不智"。俄羅斯總統普京似乎太過介意庫爾科夫在小說《The President's Last Love》中對自己的描述,以至於小說在發行後差不多兩年的時間里被俄羅斯的書店下架。


---
This lecture is brought to you by PEN Hong Kong and the Hong Kong International Literary Festival, co-sponsored by the Faculty of Law and the Faculty of Arts at HKU.
此講座由香港筆會及香港國際文學節舉辦,由香港大學法律學院及文學院贊助。