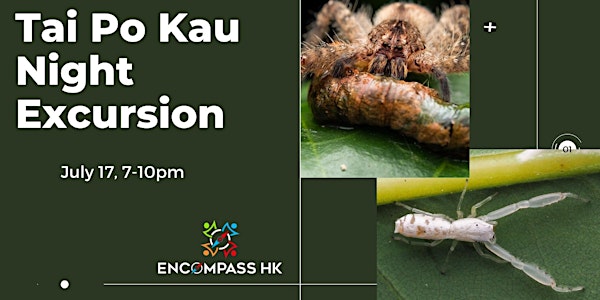 Tai Po Kau Night biodiversity excursion
Join us to take a look at the amazing nocturnal fauna in Tai Po Kau!
When and where
Location
Tai Po Kau Nature Reserve Tai Po Kau Tai Po, NT Hong Kong
Refund Policy
Contact the organiser to request a refund.
About this event
Established in 1977, Tai Po Kau Nature Reserve is a land of 460 hectares, containing some of Hong Kong's most mature secondary forests along with many of Hong Kong's fauna. Nowadays, it has easily become one of the most popular and well-known wildlife spots, providing a safe haven for a plethora of wildlife species, such as migratory birds and Hong Kong warty newts during the winter months, as well as frogs and many different types of arthropods in the summer months. Regular sightings include Red Muntjac, a small and only member of the deer family in Hong Kong, along with East Asian Porcupines and Wild Boars, while certain amount of luck is required to encounter the elusive Leopard Cat.
On this night tour, we will explore the lowest levels of this huge nature reserve, where we may see Fsofrogs near the ponds and rivers, moths fluttering about, insects resting on the plantation, and maybe even bats flying through the night sky. Tai Po Kau is also a well known location to see Fireflies, which breed from March to November, with breeding peaking between May to August. Dwarf Wood Scorpians are also common at Tai Po Kau, with the aid of UV lights we will be able to see these shy nocturnal creatures at their best, as their exoskeleten glows a bright cyan-green under UV lights.
Join us as we explore the nocturnal fauna of Hong Kong
Tour Fee: $250 for adults, $180 for children under 8 (minimum age is 3 years old)
Meeting location: Tai Po Kau Nature reserve entrance (To get there by public transport, go to Tai Po Market MTR Exit A, take mini-bus 28k and ask to be dropped off at the "Tsung Tsai Yuen" bus station)
Walking Distance: 5km
Walk grade: Easy to moderate
Terrain: Paved and nature paths, some steps
Facilities: Toilets along route
What to bring: Night torch or headlamps, bottle with drinking water, mosquito repellent
Reminder:
• Please make sure you are physically fit for the outdoor walk
• Sportswear/casual wear (in long-sleeve) and sports shoes/hiking shoes are recommended.
• This are mostly forest trails, which means uneven terrain not suitable for strollers.
• If you want to drive, you best go directly to the entrance of Tai Po Kau Nature Reserve and park your car there,
Refund Policy
• For a full refund, cancel at least 24 hours in advance of the start date of the experience.
• The event will be fully refunded if tour is canceled due to yellow/red/black rain or thunderstorm warning .