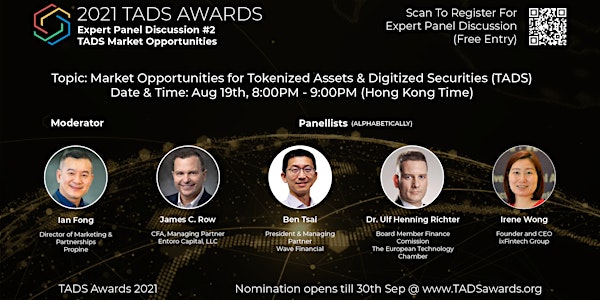 TADS Awards 2021 : Expert Panel Discussion #2 - TADS Market Opportunities
Part 1) Introduction of TADS Part 2) Expert Panel Discussion #2 - TADS Market Opportunities
About this event
TADS Awards 2021
Tokenized Assets and Digitized Securities ("TADS") industry is a game-changer. The World Economic Forum forecasts that by 2027, 10% of the world's GDP will be tokenized — with an estimated market capitalization of US$24 trillion.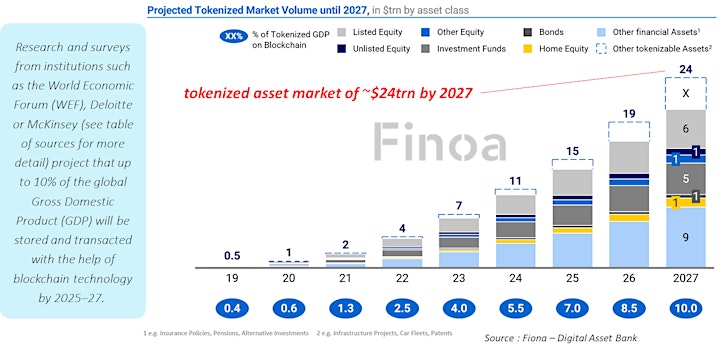 TADS Awards is the world's first annual international awards for the Tokenized Assets and Digitized Securities sector. Gathering individuals and businesses from around the world to share the energy that tokenization brings to financial markets, TADS Awards celebrates these industries by recognizing and honoring significant contributions and distinguished achievements worldwide.

Nominations for the second-year's TADS Awards to be held in 2021 ("TADS Awards 2021") are now open for submission until 30th September 2021. Nominations can be self-submitted or submitted through TADS Awards' Global Ambassadors, any TADS Awards' partners or Committee Members. Details in relation to the nomination process are available at https://tadsawards.org/
Event Rundown
(50mins session)
8pm - 8:10pm (10mins) -
Information session of "TADS Awards 2021"
- background of award, nominee eligibility, application process, judging criteria, award ceremony ...etc
By Sam Lee, Chairman of Steering Committee of TADS Awards, Founder & CEO of Coinstreet Partners
8:10pm - 8:50pm (40 mins) -
Expert Panel discussion
Topic : TADS Market Opportunities
Moderator :
Ian Fong, Director of Marketing & Partnerships ,Propine
Panelists :
James C. Row, CFA, Managing Partner, Entoro Capital, LLC
Dr. Ulf Henning Richter, Board Member Finance Comission, European Technology Chamber
Ben Tsai, President & Managing Partner, Wave Financial
Irene Wong , Founder and CEO, ixFintech Group
TADS Awards 2020 - Video Review