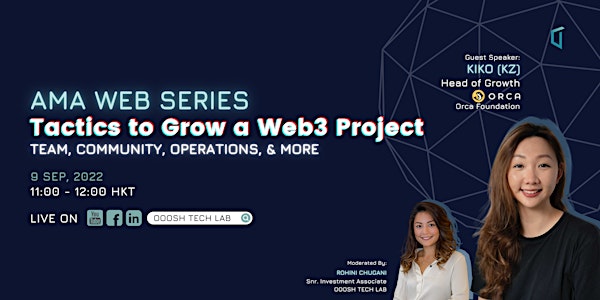 Tactics to Grow a Web3 Project - Team, Community, Operations (With Orca)
Tactics to Grow a Web3 Project - Team, Community, Operations & More (With Orca Foundation's Head of Growth)
About this event
For this live AMA session, we will be speaking with Kiko Zang (KZ), Head of Growth at Orca, one of the leading DeFi protocols on Solana with a focus on capital efficiency and human-centered design.
Kiko Zang will be covering the fundamentals of writing up a #Web3 business plan or white paper, how to plan, hire, and incentivise your Web3 team, and tips on building and nurturing a community on Discord.
Please join in our discussion and type any questions you may have for KZ in the comments box.
Speaker Bio
KZ joined Orca with experiences in consulting, business operations, product development & management. In addition to business acumen developed through her time at Mattel, Deloitte and IDEO among other leaders in their respective industries, KZ's life and work across three continents have also made her keenly empathetic to cultural and sociological nuances, making her well-positioned to drive Orca's strategic growth in a global scale. (When she's not working, KZ can usually be spotted near water, amidst book stacks in a used book store, or in a not-so-crowded cinema watching independent films.)
To follow KZ, visit https://lnkd.in/gaYTrsep.
What is Orca?
Orca is the dominant concentrated liquidity AMM on Solana, allowing users to trade Solana tokens or earn trading fees and token rewards by providing liquidity into "Whirlpools".
Orca's mission is to deliver DeFi for people, not programs. By combining cutting-edge engineering with an intuitive user experience, Orca provides a professional yet playful platform for new and veteran DeFi users alike.
Orca users can trade Solana tokens or provide concentrated liquidity to different pools to earn trading fees and token rewards.
As one of the first user-friendly DApps on Solana, Orca empowers builders to leverage its Whirlpool SDK to make waves in the web3 ecoystem. With exciting, premium web3 projects and a consistent track record, Orca is the go-to toolkit for web3 builders as it adds the human element back into crypto.
You can also learn more about ORCA or to join their discord channel, visit https://www.orca.so/.
Who is this for?
Web3 Founders & Early-stage Entrepreneurs
About Ooosh Tech Lab
Ooosh Tech Lab is an Integrated Venture Capital firm focused on empowering and de-risking scalable, disruptive startups across South East Asia. Ooosh Tech Lab offers a wide range of services to the startup ecosystem, including an investment fund, an incubator, co-working spaces, investment banking services, and growth marketing consulting. As a team, they have served over 189 local & international companies, including Tech Unicorns & MNCs.
To learn more about how we help startups, visit: https://direct.me/oooshtechlab.