Join our Swire Summer Intern alumni and Recruitment team for a fireside chat on their experience and some interview tips!
About this event
Event date: 26 January 2022
Event time: 4:00 - 5:00 PM Hong Kong time (UTC+8:00)
Swire Representative:
Ivy Lyu, Senior Manager Talent Acquisition & Development, John Swire & Sons China Ltd.
Michael Wang, 2020 Swire Summer Intern / 2021 Swire Management Trainee
Register now to attend the fireside chat!
Hear from our Swire Summer Intern alumni and Swire HR team about their internship experience, practical tips and advice to stand out in your application and interview. There will also be live Q&A during the session.
Got some questions in mind? Submit your question during the live event to be answered by the Swire team!
Swire Summer Internship Programme 2022 is now open for applications! Learn more on leadership.swire.com and apply before 20 February 2022!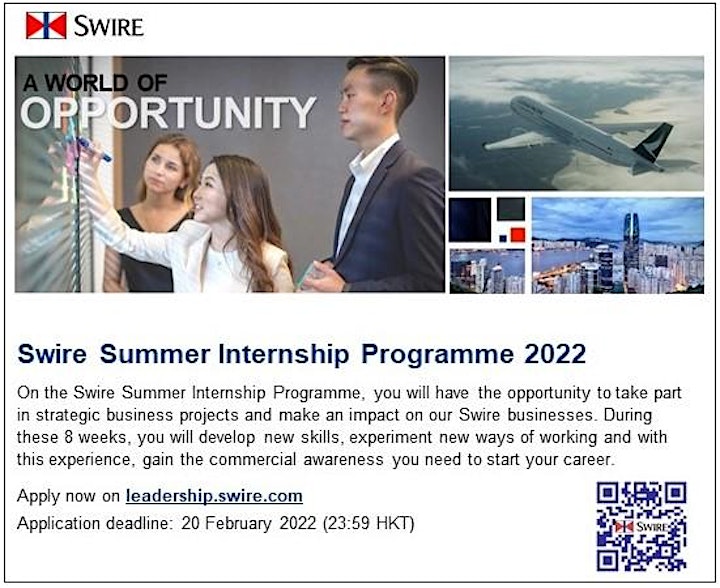 Organiser of Swire Summer Internship Programme 2022 (English session)
From aviation to shipping and property to beverages, Swire operates in multiple industries across the globe. Many of our core businesses can be found within the Asia Pacific region and include well-known brands such as Cathay Pacific, Swire Coca-Cola, HAECO, Swire Properties, China Navigation and Swire Steamships Trading Company.
For more information, please visit our websites: John Swire & Sons and Swire Pacific
To learn more about the Swire Programmes, please visit https://leadership.swire.com.