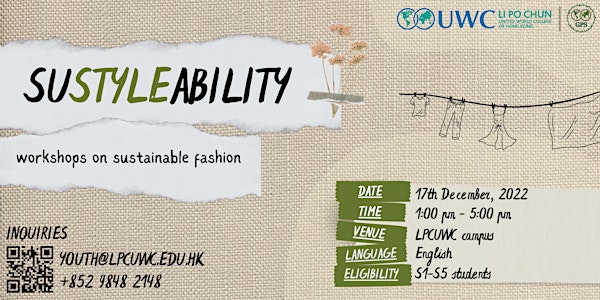 SuSTYLEability - Youth Day Camp for Sustainable Fashion
Join us as we journey from factory to runway. Look into the fashion industry, meet like-minded peers, make an impact!
When and where
Location
Li Po Chun United World College of Hong Kong 10號 Sai Sha Road Hong Kong, NT Hong Kong
About this event
SuSTYLEability is a collection of youth workshops on sustainable fashion. It is an interactive face-to-face event conducted in English. The event includes workshops about sustainability issues in the fashion industry and how consumer behaviour contributes to them. And the exciting part? You will have the hands-on opportunity to organise a small-scale fashion show using second-hand clothes to showcase your takeaways from the event.
Did You Know?
To produce a simple outfit, a T-shirt, jeans, and shoes, over 15,000 liters of water is used. This is equivalent to taking 317 showers.
The fashion industry accounts for up to 10% of global carbon dioxide output.
Less than 11% of brands have implemented recycling strategies for their items.
Reflect on our behaviour towards the Earth
Textile production contributes more to climate change than international aviation and shipping combined. Do you really need that many clothes?
3 out of 5 fast fashion items end up in a landfill. Is it necessary to follow the trends?
Over $125 billion of fashion garments created via modern slavery are imported annually to countries including China. How do we fix this situation?
Organise your own fashion show
Design outfits with second-hand clothes;
Get dressed up;
Be a Model;
Share your insights
Change starts with you! Register by 14 December 2022.
To enter LPCUWC campus, LeaveHomeSafe & photo of same-day negative RAT result required.