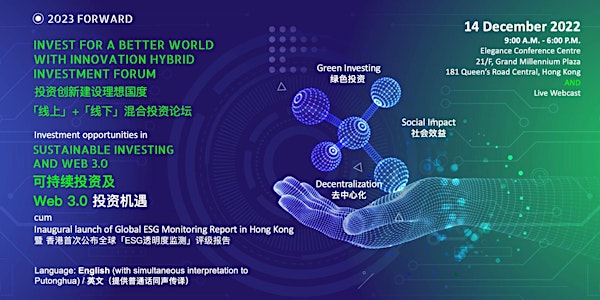 Sustainable Investing & Web 3.0 Investment Forum by LBS Sustainability IR
Opportunities in Sustainable Investing and Web 3.0 cum Inaugural Launch of Global ESG Monitoring (GEM) Report for Hong Kong Region
When and where
Location
21/F Grand Millennium Plaza 181 Queen's Road Central Central, Hong Kong, HKI Hong Kong
About this event
Sustainable Investing and Web 3.0 Investment Forum
LBS Sustainability Investor Relations sincerely invites you to attend the 6th Sustainable Investing and Web 3.0, Invest For a Better World Investment Forum. The forum focuses on up-and-coming investment opportunities in the green and digital transition. The forum will also launch the inaugural Global ESG Monitor (GEM) rating report for Hong Kong which exclusively assesses the ESG transparency of the 73 HSI Blue Chip Constituents.
Investment professionals in sustainable investing and Web 3.0 as well as representatives from Hong Kong and U.S. listed companies will shed light on the sustainable investment outlook and achievements in businesses that enhance ESG value.
Event Details
Date: 14 December (Wednesday)
Time: 09:00 - 18:00
Format: In-person + Live Webcast
Venue: 21/F Grand Millennium Plaza, 181 Queen's Road Central, Hong Kong
Language: Panel discussion: English (with interpretation in Putonghua via Webcast)
Corporate presentation: English / Putonghua
Event Rundown
0830 - 0900 |Registration
0900 - 0905 |Opening Remarks
0905 - 0910 |Welcoming Speech
0910 - 1000 |Keynote Speaker Presentation
1000 - 1100 |Panel Discussion
1100 - 1110 |Break
1110 - 1300 |Corporate Presentation
1300 - 1400 |Networking Session (included light lunch)
1400 - 1425 |Keynote Speaker Presentation
1425 - 1500 |Panel Discussion
1500 - 1545 |GEM global team presents "2022 Global ESG Monitor (GEM) Rating Report: The best performing HSI Blue Chip constituents in terms of ESG transparency"
1545 - 1800 |Corporate Presentation
Join us in-person for business networking with speakers, investors, and participants and earn a beautiful tree for the green initiative!
In appreciation of your kind attendance and support, each attendee will be gifted a BEAUTIFUL TREE which is planted to recognize your attendance!
Honorable Keynote Speakers
Carrie Law, Founder of WOW IMPACT GROUP
Joe Zhou, Chief Consultant of Carbon World Limited
Kevin Loo, Managing Director, Head of Investment Insights of IDEG
Matthew Cheung, Chief Strategy Officer (CSO) at Hong Kong Virtual Asset Exchange (HKVAX)
Robert Luo, Head of Product & Project at NV Technology Limited
Ir Prof Alan Lam, PhD, MIEEE, MHKIE Managing Partner, Gravity Capital Partners Co. Ltd Limited
Josephine Price, Chairperson of Social Impact Partners
Michelle Leung, Asia Pacific ESG Strategy, Bloomberg Intelligence, Bloomberg L.P.
Patt Yuen, Chief Operating Officer, Elegance Financial Communications Limited
Qiusha Zhan, Associate Director, ESG Specialist, CSOP Asset Management
Here is what you could expect as an attendee of the Forum:
You will have first-hand access to interactive case studies to gain insightful sharing into Web3.0 and ESG.
You will meet and interact with professional speakers, panelists, experts and senior executives throughout the entire forum.
You can connect with all participants across industries and geographies at this forum.
About the Organiser
LBS Leverage Big Strategy - Sustainability Investor Relations is a strategy-based consulting company based in Hong Kong with offices in Singapore and Shenzhen. As the presentative of Public Relations Global Network (www.prgn.com) in Hong Kong and the Greater China, our expertise in IR communications stretching from local to global. Our talent is to drive change for our clients. With over two decades of experiences in investor and financial communications, we endeavour to stretch our expertise to sustainability investor relations that join hand with our clients in making a better world. Our strategies and services are tailor-made to bridge and foster the relationships between our clients and their multiple stakeholders. Our clientele spans across different industries such as power and utilities, medicare, telecommunications and IT, retail and consumer, metal and resources, education and training, hospitality and travel. We care and manage the value and brands of our clients.
Tickets are limited. Register NOW!