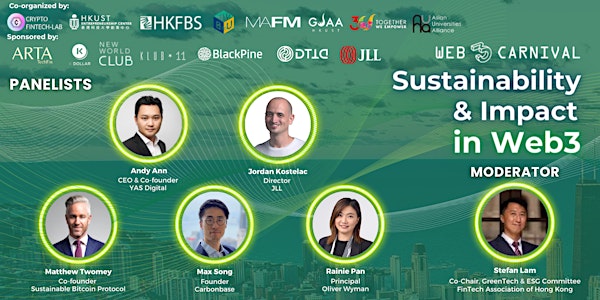 Sustainability&Impact in Web3| JLL,Oliver Wyman
Web3 and ESG and some exciting stories Key challenges and opportunities Future development and sharing
About this event
Event summary:
Eager to solve social challenges with Web3 tools? Join the panel scheduled for 30/10 (Sun) at 4:00 PM. We are very excited to have invited the following specialists (in alphabetical order) to explore the use of Web3 technologies to support ESG and various impact initiatives.
Stefan Lam (FinTech Association of Hong Kong, Co-Chair, GreenTech & ESG) [moderator]:
Andy Ann (NDN Group, Founder)
Jordan Kostelac (JLL, Director of PropTech)
Matthew Twomey (Sustainable Bitcoin Protocol, Co-founder)
Max Song (Carbonbase, Founder)
Rainie Pan (Oliver Wyman, Principal)
Zoom link:
https://hkust.zoom.us/j/92189288654?pwd=M2tTTWZpZG9GVlR4VURPT0Q4QjBFZz09
Sponsored by:
ARTA TechFin (https://www.artatechfin.com/)
New World Klub 11 (https://klub-11.com/)
BlackPine (https://bppe.com/)
DTTD (https://www.dttd.io/)
Join our community to learn about the event and the latest updates!
LinkedIn: https://www.linkedin.com/company/hkust-web-3-0-labs/
Discord: https://discord.gg/PR6pgrfjMb (join now to chat!)
Twitter:@Web3_HKUST
Co-host:
HKUST Web 3.0 Lab
HKUST Entrepreneurship Centre (https://ec.hkust.edu.hk/)
HKUST Crypto-FinTech Lab (http://cryptofintechlabhk.net/)
HKUST DareDevil Lab
Hong Kong Federation of Business Students (HKFBS)
HKUST Graduate Students and Alumni Association (GSAA)
Asia Universities Alliance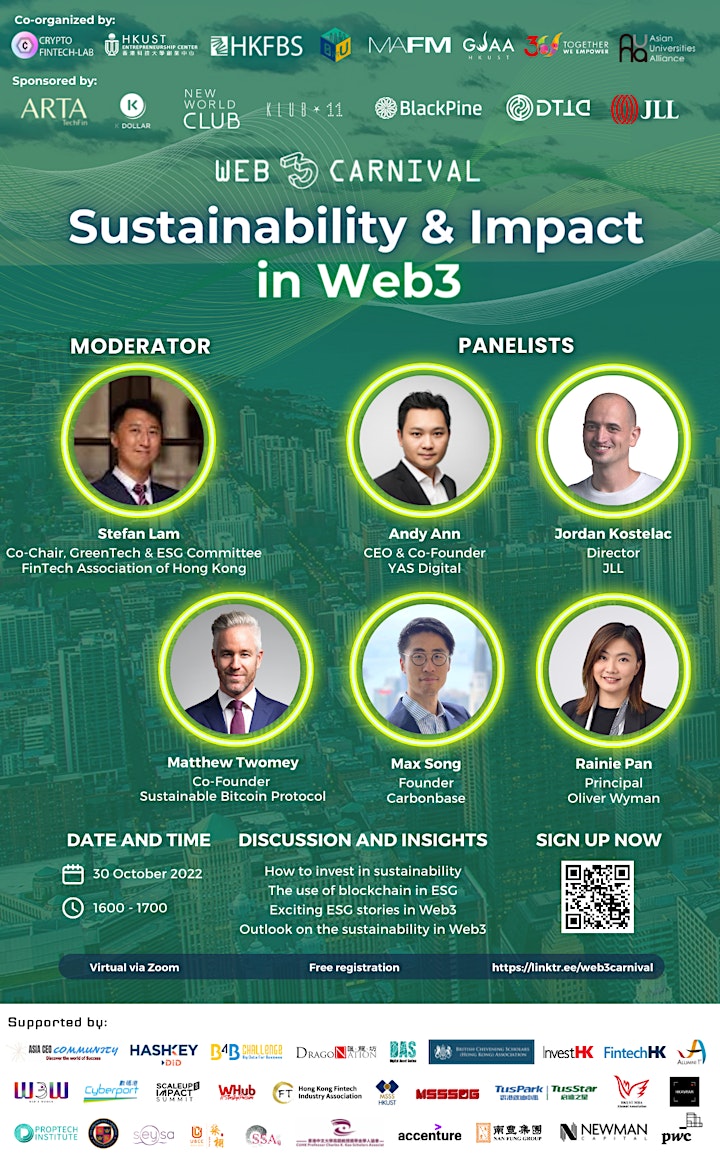 Carnival Rundown:
Week 1: Carnival kickoff & Web3 landscape
Week 2: How are corporations tapping into Web3?
Week 3: Opportunities lie in web3, metaverse & NFT
Week 4: What is NFT?
Week 5: Into the Metaverse
Week 6: Venture Capital in Web3
Week 7: Sustainability and Impact in Web3
Week 8: Cryptocurrencies, Tokens, Coins, and the Latest Global Trends
Week 8.5: Decentralization 101 (venue sponsor: Altive)
Week 9: Risks & Opportunities in Web3
Week 9.5: How to get a job in Web3? (venue sponsor: CoCoon)
Week 10: Women in Web3 (venue sponsor: CoCoon)
Week 11: The World in 2030 & Carnival Closing
Award:
Participating in more than 80% of the panels, you will receive an exclusive NFT!
NFT Previews: