Description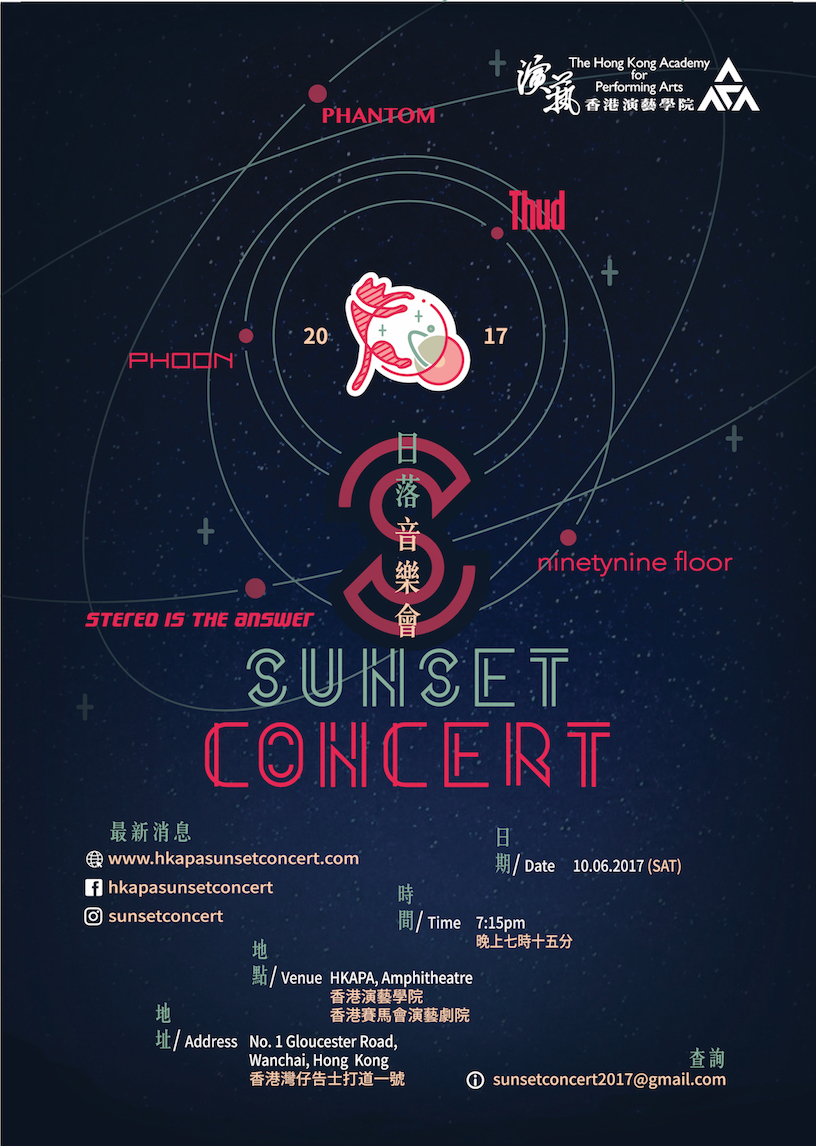 Sunset Concert 2017
日落音樂會 2017
Sunset Concert has held for decades with a prominent history of up-and-coming artists' collaboration. The students from Department of Entertainment Technology, Management and Design (ETMD) of The School of Theatre and Entertainment Arts (TEA) were glad to work together with local musicians and artists of varied aspects.
The TEA four-year undergraduate programme provides a creative, professional and innovative tertiary level training for those talented and dedicated students who wish to pursue a selective and intensive education for Western and Chinese performance and related skills on technical, entertainment arts. The Sunset Concert is an annual extravaganza to share the learning progress and the new attempts at concert production.
This year, the theme is "Curious Cat", which is focusing on music exploration and curiosity on the new possibilities. It will incorporate music performance of the more experimental nature. Are you ready to be one of the curious cats to join the grand experiment? Let's explore the inquisitive mind, and you will be amazed.
日落音樂會是香港演藝學院舞台及製作藝術學院製作科藝管理及設計系學生一年一度的製作,至今已舉辦超過二十年。音樂會一直致力於邀請來自本地不同音樂範疇,而又充滿潛力的音樂人和樂隊參與演出。
舞台及製作藝術學院的四年制學士學位提供創意、專業和創新的課程,讓有志於投入演藝和中西方舞台製作行業的學生選讀精選和深入的設計、技術及管理等專業範疇。日落音樂會將會是年度盛宴,讓同學們分享創新想法和學習成果。
今年,日落音樂會訂立了一個主題:「薛丁格的貓」——這是一個關於好奇和探究心的科學實驗。同學們將嘗試把不同形式與風格的音樂種類,放進一個大盒子內,以尋找更多的可能和不確定性。你願意成為這個音樂實驗當中的一員嗎?請謹記帶同你的探索心參與音樂會,你將會有所發現。
Enquiries 查詢
sunsetconcert2017@gmail.com
www.facebook.com/hkapasunsetconcert
10.6.2017 晩上7:15 pm
The Hong Kong Jockey Club Amphitheatre
香港賽馬會演藝劇院