In this world's 1st only 1-day English course on 3 Kingdomes Wisdom, you'll be rewarded with useful strategies and tools (Andy 93672286)
About this event
How to draw Parallels from 3 Kingdoms Period to Present Day Global Pandemic-hit World and Win
Imagine that your country that was strong and powerful for the last 400 years is now just a big mess. What used to work in the past no longer works. Money is gained and lost very fast with most people not having enough to survive. Everyone is looking for some clear direction from the top, but they were disappointed because there are just too many non-stop power struggles and in-fighting every day.
This was the 96 years period that China was in from 184 to 280 CE. Isn't that resembling what we have today with the non-ending global COVID-19 Pandemic? If that is so, what lessons can we draw from the 3 Kingdoms Period? What strategies and tactics we can use to turnaround our fortunes? Create jobs for people? Make business strong again? Restore confidence in the tourism and aviation industries? Make the world great again?
Taken from the best of the best strategies from outstanding strategist at that time including Zhuge Liang, Liu Bei, Sun Quan, Cao Cao, and Sima Yi, this course is the world's first and only practical 1-day course about the 3 Kingdoms. You will also learn how to avoid the failure ways of leaders of Dong Zuo, Yuan Shao. Liu Bei, Cao Cao and Sima Yi.
Our Author Trainer Coach Andy Ng has a MBA from UK. Based in Singapore, Andy is bilingual (can write articles in Chinese) and has, since the age of 5, been involved in China's rich history and culture. Since 1986 Andy's first visit into China, he has cultivated a strong in-depth knowledge about China covering 4,000 years from the pre-historic times to present day.
Andy has delivered countless lectures and training seminars that using Sinology and strategies from Sun Tzu Art of War, 36 Stratagems, Yijing and 3 Kingdoms. If you too want to plan to succeed and succeed in your plans and turn from losses into profits, invest in this world's first and only 1-day English course on 3 Kingdoms: Winning with 3 Kingdoms Wisdom. You'll be handsomely rewarded many times over, for this life and beyond.
Why You Must Learn this 3 Kingdoms Wisdom:
You need not just any leadership, but Strong Leadership and Good Management to solve today's problems
With rising inflation and resources getting scarce, You need to Get More Done with Less manpower, resources and money
To fight the wars (COVID, supply-chain, climate change & politics), you need to bring people together and build a strong team with a common vision and a strong mission
To achieve SUSTAINABLE results, you need to not just hire base on skills but on character, and instill Morals and Values in your People
Finally, in these turbulent times, you need to Promote Inner Peace and look after People's interest
Power-packed contents in this 1-day course include:
3 Kingdoms and its Parallels today: where are your Wei, Shu and Wu kingdoms?
Myths and Truths of 3 Kingdoms: debunking tales that were simply false (eg Diao Chan beauty trap and Cao Cao lost the Red Cliff war due to wrong strategy)
Sun Tzu Art of War 5 Strategies as amplied in 3 Kingdoms
How it all Started: Rise of warlords due to weak leaders and infighting at the top
Wisdom from the failure of warlord Dong Zhuo
Rise of Liu Bei and his 2 Sworn Brothers Guan Yu and Zhang Fei
So near yet so far: why Yuan Shao failed and died tragically
Most capable and cunning Cao Cao: is he really a bad guy?
The Zhuge Liang Way to Win the Most with the Least: top 9 Success factors
Applying Zhuge Liang's Longzhong Plan to your work and life now
From zero to Emperor: Liu Bei success and failure due to his 'perfect' character
The Sima Yi long hidden and enduring Way to 'Success'
Top 20 lessons for the Working World
Ultimate of 3 Kingdoms Wisdom: Save Yourself and the World
5 Benefits of Learning WINNING WITH 3 KINGDOMS WISDOM:
You'll for once and all really know and appreciate the simplicity of the 3 Kingdoms complicated stories
Every story in the course has a direct application to your life now
You'll also learn the key essence of Sun Zi Art of War, 36 Stratagems and Dao De Jing in this course
You are able to draw parallels from the 3 Kingdoms period to our present-day Pandemic-hit world
You can avoid the costly mistakes of the leaders from the 3 Kingdoms
For Who to Attend:
Managers, leaders and directors that want to achieve breakthroughs in their career this year and beyond
Professionals, executives, and working people that want to harness the power of winning strategies
Students and retired people that want to be enriched the 3 Kingdoms stories
Anyone that want to know Chinese culture and history in the shortest period of time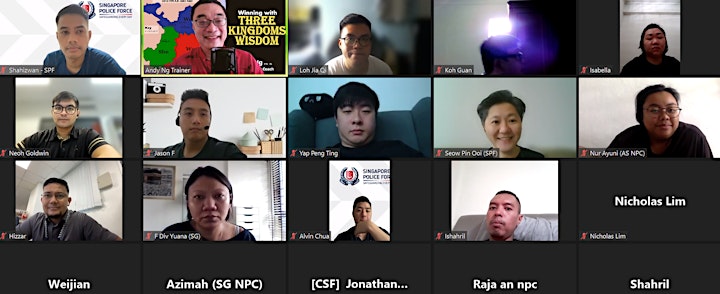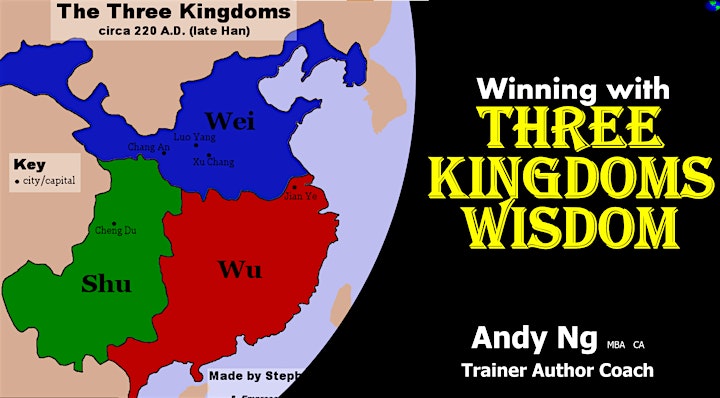 Date and time
Location
Refund policy
Organiser of Sun Tzu Art of War with 3 Kingdoms Strategies
Asia Coaching Training (Singapore)                        www.asiatrainers.com
Founded in 2001, Asia Coaching Training was, from 2001 to 2007, the Singapore Licensee of the world's largest business coaching firm, ActionCOACH, a company with offices in 26 countries since 1993. (ActionCOACH was previously known as Action International).
Asia Coaching Training is a team of dedicated professionals committed to building better business for companies in the areas of business training, coaching and consulting. 
Our Vision: "Building People to Building Business".
Introducing Your Business Coach Andy Ng
Business Coach, Consultant and Trainer, Andy is the founder of

A

sia

C

oaching

T

raining.  Andy Ng combines 31 years of corporate, entrepreneurial business, training and consulting experience, all with a great passion to help people to be more competitive and successful.

Andy Ng graduates from National University of Singapore in 1988 with a 2nd class honours degree in Accountancy US (1988) and also has a MBA from the Heriot-Watt University of UK.

From 1997 to 2001, Andy was the

Director of Finance, HR and Admin

of the world's 5th largest computer networking equipment supplier - Allied Telesyn International.  The Group enjoys US$420 million sales employing 1,300 staff worldwide.  Andy's other experiences include banking at Chase Manhattan Bank, consultancy at KPMG and sales at Vickers Ballas Holdings Limited. 

 As a trainer, trains companies on 3 major topics: sales, management and executive and high performance employee skills.  Andy has trained SingTel and Sing Power for their multiple-run training Finance for Executives programs.  On top of that, he also did countless training assignments for companies including Beckon Dickinson, Hwa Chong Institution, Coldwell Banker, Thomson Learning, SPH, DTZ Debenham, NTUC & Manulife Insurance Singapore.

Since 1996, total people trained by Andy numbered 81,431 in 14 countries.

The public workshops conducted by Andy are highly popular, and some of them were featured on MediaCorp Radio.  Andy is also a Certified Trainer with the American Management Association (AMA) and Advanced Training (UK). He is also ACTA-certified by MOM's Workforce Development Agency (WDA).
In the community, Andy is District Chairman for Leadership at District 308A1 Lions Clubs International and Committee Member of Association of Professional Trainers Singapore.