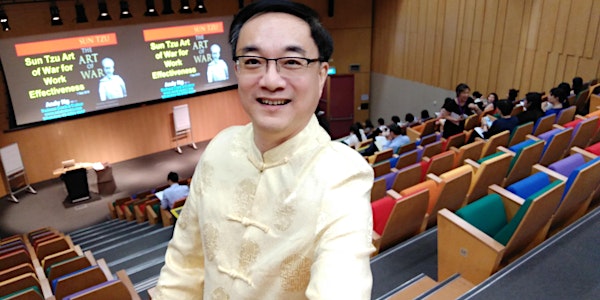 SUN TZU ART OF WAR in Winning Leaderhip and Management (2-days)
Watch the short video at here Sun Tzu (or Sūn Zǐ in pinyin) was a 500 BC Chinese general, military strategist, and author of The Art of War,
When and where
Location
- 69 Boon Keng Rd L2 Singapore, Singapore 339772 Singapore
About this event
Sun Tzu Art of War
Winning Strategy for Leadership and Management (2-day)
Now You Can Win More using the Art of War Strategy in your Leadership and Management
Workshop overview
Sun Tzu was a 500 BCE Chinese general, military strategist, and author of The Art of War, an immensely influential ancient book on military strategy. Many great leaders like Margaret Thatcher and Ronald Reagan studied his work and became legendary leaders. Even more corporate leaders paid tens of thousands of dollars to attend courses to learn Sun Tzu secrets.
We at Asia Trainers believe that you too can master Sun Tzu secrets without spending tens of thousands of dollars and many days. This is because we take the essence of Sun Tzu and compile them into a 2-day course that will leave you with just enough materials to lead your team to greater heights. Since October 2010, we have trained over 2,137 leaders coming from countries including Hong Kong, Japan, Myanmar and even China.
The most valuable lesson out of his 13 chapter of 5,000 words must be found in the 3rd chapter: Win Without Fighting.
As translated from The Art of War: Generally, in war the best thing is to take the enemy state whole and intact; to ruin it is inferior to this. To capture the entire army is better than to destroy it. Hence, to win on hundred victories in one hundred battles is not the acme of skill.
To subdue the enemy without fighting is supreme excellence. In short, win without fighting is the best.
How does it apply to your leadership and management?
1. Enemy here refers to not your enemy but your team that you are leading.
2. Take the enemy state whole and intact means you must lead your team wholly with not just their bodies, but also their minds, hearts and spirits.
3. Never destroy the bodies, minds, hearts and spirits of your team. So you cannot over-work them for you will be destroying their bodies and minds. You also cannot break their hearts by not delivering on your promises and make them give up on you. Finally, you may destroy their spirits when you unknowingly insult them or make feel invalidated by not listening to them.
4. To win without fighting in leadership is to lead without your team knowing that you are leading them. A leader is at his best when people barely know he exists, when the work is done, the team will say: we did it ourselves. This is because the leader has empowered the team so much and they have become so competent that they are mini leaders themselves, thus the leader is leading without actually leading them. This must be the highest form of leadership. Lead without Leading.
5. If you too want to be a great leader, learn from the master.
Sun Tzu Art of War Winning Strategy for Leadership and Management (2-day)
Course Outline: Power-packed contents
1. Review of your current leadership and management challenges
2. What is Leadership and How everyone is A leader (but not The Leader)
3. Job of a Manager & Leader per Sun Tzu
4. Automatic Management and Leadership: the goal of any manager and leader and how Art of War can help in this
5. Chinese philosophies and the background of Sun Tzu
6. Story of the Concubines: The 3 leadership lessons that Sun Tzu taught the King of Wu
7. Myths and Truths of Sun Tzu's Art of War and 36 Stratagems
8. Applying the Sun Tzu's 5 Elements of Purpose, Climate, Leader, Ground and Methods
a. Review of your current leadership with these 5 elements
9. The 6 Key Strategies of Art of War: Win without Fighting, Inner Knowledge, Occupy the Right Ground, Right Timing, Being Efficient and Right Use of Deception
10. Win without Fighting: top 20 ways in your work
11. How to 'Know Thyself Know Others' – using VAK and other tools to know people by observing
12. Art of War Fire in Leadership: how to inspire, motivate and elevate your team
13. Waging War: what to do and what not to do when confronting people: How to 'Scold' and be loved by your team
14. Use of Energy in Art of War: how to harness the 'qi' in your voice and written communication
15. The Use of Spies: how to get real information from your team
16. The Art of Deception: using the right tactics with the right strategy
17. Overview of the 36 Stratagems and its 6 categories
18. Andy's 4 Steps in applying 36 Stratagems to resolve your leadership and management challenges
19. Top 10 of The 36 Stratagems in applying the Art of War
20. The Ultimate in Art of War: Win the entire nation and how
21. Winning Strategy from the 3 Kingdoms: how to Hire, Inspire and Retain Talents the way of Liu Bei and Zhuge Liang
22. Ultimate winning strategy in leadership and management: Be a Good Person and How
23. Review of your leadership and management challenges: participants to come up with answers
24. PAP: Profit Action Plan (to submit to the Trainer, who will give each participant a one-to-one coaching via WhatsApp to ensure application and to help resolve their challenges).
Training Methodology
The course is designed to be fun, interactive and create 'Ah Ha' moments to let the participants come up with countless ways to use Art of War in their daily work.
I use games, exercises, group exercises, group discussions, and watching of video clips to make the lesson interesting. There is not a dull moment.
Many stories from the 3 Kingdoms period will be shared.
Testimonials from our past learners:
- Trainer is knowledgeable and enjoying
- Interesting Sharing and Examples
- Material Easy to read and understand, good reference material
- The concepts are a good reminder of what we can achieve
- Useful tips applicable at work
- Material easy to follow
- Informative and interesting with several examples and illustrations
- the course has given adequate examples to apply the stratagem to real-life leadership lesson
- The workshop is well organized with easy to follow material
- The trainer is very lively and make the effort to engage his audience
- Many life examples were given during the course for us to understand the content.
- With the good translation from the trainer Mr. Andy, it helps us a lot
- Clear explanation us with the example given
- Good Notes & knowledge shared by the trainer
Benefits of attending this training
1. After attending this course, you'll learn strategies and practical tools and techniques to enhance the leadership and management capabilities in you.
2. You will also know how to avoid being a 'bad' or ineffective leader and manager
3. Through case studies and video clips, you'll derive your own notes and what to do in future
4. With this you can also unlock the goodness in others that can impact all aspects of your life positively from the professional to the personal.