The quickest & EASIEST way to immigrate to Canada. Best return on investment! Spouse can work full time and children below 18 study free!
About this event
MITT is a public post-secondary institution that develops highly talented graduates for a range of in-demand careers in Manitoba and across Canada. Industry Driven. Student Focused. All programs align with in-demand occupations with Manitoba's Provincial Nominee Program offering excellent opportunities for graduates wishing to immigrate to the province. The college readily makes available the necessary resources and supports to help students achieve their goals and prepare themselves with job ready skills for entry into the workforce and rewarding careers.
Saskatchewan Polytechnic (Sask Polytech) students are prepared to face the global workplace. They receive one-to-one attention from teachers, and become part of a vast international network. The graduates of Saskatchewan have promising career prospects with 94 percent of students in employment within one year of their graduation. The institution has always focused on conducting research that addresses real-world challenges. It also awards CAD 2 million annually to students.
Affordable tuition fees, reduced tuition deposits, partial scholarships, paid internships, working part-time, bringing of working spouse and children with free primary and secondary education, Post-Graduation Work Permit Program (PGWPP), access to free healthcare system and Immigration with full Canadian national benefits are some of the many opportunities available by just studying in Canada.
At MITT and Sask Poly, they step forward so that you may step forward to your future. Join the Free Webinar on 3 July (Saturday), 2PM. Just download the ZOOM app on your smartphone, tablet or computer and join our webinar from the comforts of your home. Discover many opportunities that await you studying in Canada. Don't put your future on hold, start today!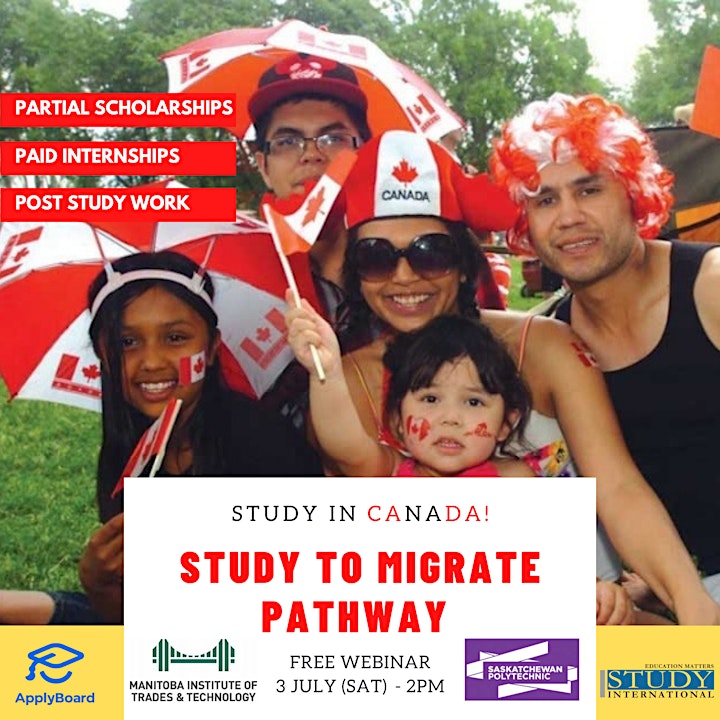 Organiser of Study to Immigrate Pathway with MITT and Sask Polytech!
STUDY INTERNATIONAL is your ONE-STOP-SHOP for studying abroad.  We provide education counselling and assistance for studies in MOST COUNTRIES (UK, Australia, New Zealand, USA, Canada, Switzerland, Italy, Germany, Spain, Ireland, Netherlands, Japan, China, South Korea, Malaysia, and Singapore).  With our knowledge and expertise, we help you make an INFORMED choice based on your dreams, ambition and budget.
Our FREE SERVICE includes advice and support for applications to all levels of overseas education (Boarding School, Summer School, Diplomas, Bachelor Degrees, Masters and PhDs).  We assist with accommodation and travel options, visa application, and all other matters related to studying abroad. 
PHONE: (+63) 920 951 9657  | EMAIL: info@studyinternational.com.ph | WEBSITE: http://www.studyinternational.com.ph
For updates on presentations and other events, you may also check out and follow us through Social Media:
FACEBOOK: www.facebook.com/studyinternational.ph
INSTAGRAM: https://www.instagram.com/studyinternationalph/
TWITTER: www.twitter.com/StudyIntlPH