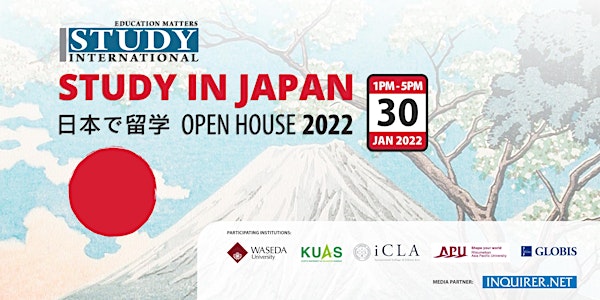 Study in Japan Open House 2022
Study your degree in English at world-class universities, cutting-edge research, and an unrivaled cultural experience.
About this event
Let us tell you why:
High educational standards of Japanese universities have a global reputation for excellence and innovation, with 10 institutions ranked in the world's top 200 by the QS World University Rankings 2020. Japan has it all — bustling cities with cutting-edge fashion and technology, serene snow- capped peaks, tropical beaches, 23 World Heritage Sites, not to mention the world-renowned, Michelin starred cuisine, hot springs, cherry blossoms and summer festivals. And with excitement building for the 2020 Olympic and Paralympic Games, there really is no better time to head out to the "Land of the Rising Sun."
Learn Japanese while earning a degree. Even if you don't speak a word of the lingo, there are still hundreds of study options available as Japanese universities now offer full-time degrees delivered entirely in English — and the number of courses grows every year. You will of course have the opportunity to take Japanese classes on the side, and, with a little effort, you can acquire a good level of proficiency by the time you leave Japan.
Improve your employability in Japan and the world. Internationally aware employees are in strong demand, and many companies actively recruit students with overseas learning experience - especially if they are able to speak a second language.
Lastly, Japan offers affordable and relatively low tuition fees and a variety of scholarships. And despite what you might think, living expenses are comparatively low in Japan with average monthly spending for international students comes out to ¥146,000 including tuition fees, which is less than P73,400! Also, there is a wide range of scholarship opportunities available to international students, including full or partial tuition fee waivers or a monthly stipend.
The Study In Japan Open House is an opportunity to get answers to all your questions on studying in Japan and the opportunities that come with it — part-time work, work after graduation, migration to name a few. Know the variety of affordable and accessible options for you to study abroad. Through the representatives present, attendees can be provided first-hand information on how to go about with your study plans abroad.
The participating universities include:
Waseda University
International College of Liberal Arts
Kyoto University of Advanced Science
Ritsumeikan Asia Pacific University
Graduate School of Management, Globis University
Register for the Study in Japan Open House today and pursue your dreams in the Land of the Rising Sun!
MEDIA PARTNER: INQUIRER.NET