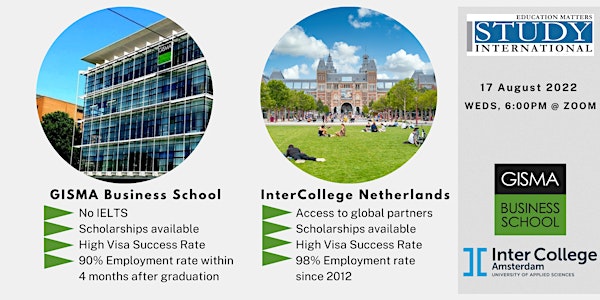 Study in Europe with GISMA (Germany) & InterCollege Amsterdam!
Study in Europe and be global!
About this event
InterCollege Business School is dedicated to inspiring the entrepreneurial minds of tomorrow. Founded in 1979, the school has years of experience in providing bespoke Business Administration (BBA) courses – made for entrepreneurs, by entrepreneurs. As a student of Inter College Business School, we will ensure your ideas and talents are transformed into action and practical experience – as this is the only way to apply value.
- Internationally recognized Accreditation, Memberships, & Affiliations
- Excellent campus location, within the heart of Amsterdam
- Learn from well renowned Professors with industry and entrepreneurial expertise
- Accommodation, Visa & Placement Support
- Excellent Scholarships Available For All
- High Visa Success Rate
- Access to global industry partners
- 98% Employment rate since 2012
-----------------------------------------------------------------------------------------------------------
Since its establishment in 1999, GISMA Business School has paved the way for talented and skilled individuals to develop tech-driven and innovative solutions to some of the biggest challenges in the business world. With our goals in mind, we are continuing to expand and grow, helping students from across the globe to pursue their dreams and succeed.
Through a range of partnerships with leading schools including the triple-accredited Grenoble Ecole de Management, The University of Law and Kingston University, GISMA has expanded its selection of programmes providing more students with the opportunity to pursue their career ambitions.
GISMA offers a range of accredited postgraduate and undergraduate programmes, language classes, a university placement programme and executive courses. In addition, students have the opportunity to utilise GISMA's committed careers centre which can help them with anything from writing a CV to practising their interview technique.
Students are encouraged to pursue internships and job opportunities in Germany. With campuses in Berlin, Hannover and Hamburg, our students have access to numerous employers from the world's biggest tech firms as well as a range of start-up companies. Cooperation between GISMA and employers has enabled students to find exciting job opportunities and work on collaborative projects.
Why Study at GISMA University of Applied Science:
- AMBA Accredited Top MBA Programs
- No IELTS Required
- Located in the Capital City of Germany - Berlin/Potsdam
- Accommodation, Visa & Placement Support
- Easy Entry Criteria - Minimum 50%
- Excellent Scholarships Available For All
- High Visa Success Rate
- Campus Located in the Heart of Berlin
- Multiple Installment Fee Payment Plan
- 90% Students Found Employment Within 4 Months