1-1 sessions with the representatives. Affordable tuition fees, waived IELTS & application fees, reduced tuition deposits, and scholarships!
About this event
Students from all over the world come to study in Ontario, Canada. Home to 40% of the country's population and more international students than any other province, Ontario is the most populous (and popular) part of the country. Perhaps this is because of the sheer number of options for people studying in Ontario: it borders the wilderness and Great Lakes, but also major US cities; it has big well-known universities and small, specialist colleges. It has every kind of weather you can think of, too. If you are still stuck on which Canadian province to choose, it's hard to go wrong with Ontario.
Ontario has lovely, hot, humid summers and colourful, crisp autumns. While Ontario can be chilly, there's an alternative to walking around in the cold in Toronto: PATH. It's the longest underground pedestrian walkway in the world, taking you through 30 kilometres of shops, movie theatres, and other services in total comfort. Ontario is also well-connected by road and rail where other provinces are not.
Toronto is home to significant communities of Greek, Chinese, Indian, Polish, Italian and Filipino descent. There's also plenty of opportunity for lakeside sports and activities, and the chance to visit Niagara Falls, one of the seven wonders of the natural world.
If you like studying in Canada so much that you want to stay there, good news – you can! In Ontario, graduates can become full Canadian citizens through an initiative called the Provincial Nominee Program. This means that if you are an undergraduate with a job offer, or a postgraduate student (with or without a job offer) there's a clear, relatively straightforward process by which you can live in Ontario permanently.
Join us as we showcase opportunities studying in Ontario, with representatives of Centennial College, Niagara College, Cambrian College, and Niagara College Toronto on 3rd July, Saturday – 10AM. Just download the ZOOM app on your smartphone, tablet or computer and join our webinar from the comforts of your home. You wouldn't want to miss this, sign up today!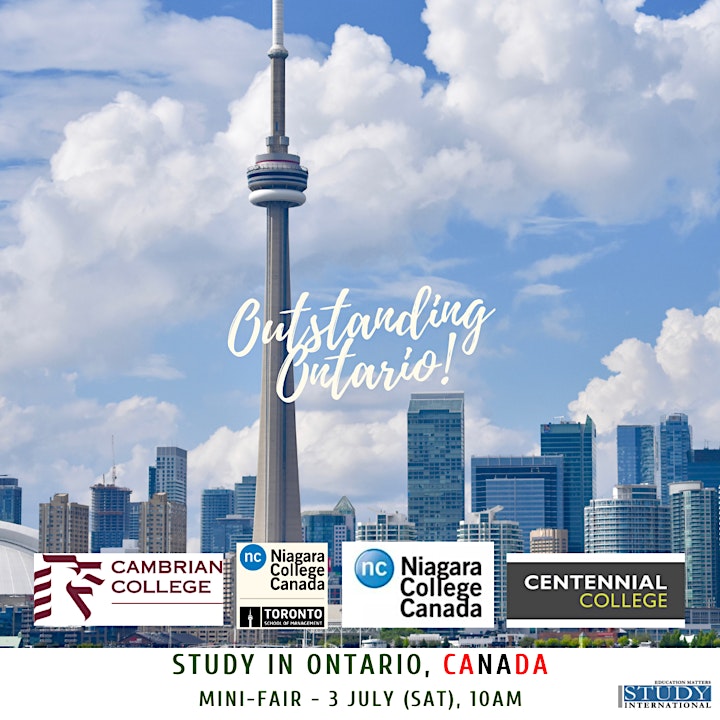 Organizer of Study in CANADA: Destination Series 2021 Featuring ONTARIO
STUDY INTERNATIONAL is your ONE-STOP-SHOP for studying abroad.  We provide education counselling and assistance for studies in MOST COUNTRIES (UK, Australia, New Zealand, USA, Canada, Switzerland, Italy, Germany, Spain, Ireland, Netherlands, Japan, China, South Korea, Malaysia, and Singapore).  With our knowledge and expertise, we help you make an INFORMED choice based on your dreams, ambition and budget.
Our FREE SERVICE includes advice and support for applications to all levels of overseas education (Boarding School, Summer School, Diplomas, Bachelor Degrees, Masters and PhDs).  We assist with accommodation and travel options, visa application, and all other matters related to studying abroad. 
PHONE: (+63) 920 951 9657  | EMAIL: info@studyinternational.com.ph | WEBSITE: http://www.studyinternational.com.ph
For updates on presentations and other events, you may also check out and follow us through Social Media:
FACEBOOK: www.facebook.com/studyinternational.ph
INSTAGRAM: https://www.instagram.com/studyinternationalph/
TWITTER: www.twitter.com/StudyIntlPH