1-1 sessions with the representatives. Affordable tuition fees, waived IELTS & application fees, reduced tuition deposits, and scholarships!
About this event
Universities and colleges in British Columbia are consistently ranked among the top-ranked institutions in Canada. They offer affordable tuition fees, waived IELTS & application fees, reduced tuition deposits, partial scholarships and an opportunity to save more by studying 50% of your course at your home country and still enjoy full benefits of Post-Graduation Work Permit Program.
The highly integrated education system in British Columbia is a global model for progressive, flexible education. The province of British Columbia has its own unique BC Transfer system that allows your credits from a College to be transferred in a University within the provinces. Teachers and institutions are ranked among the best in the world and BC is the only province in Canada with a provincial seal of quality for post-secondary education (Education Quality Assurance).
In addition, the province provides a wide array of employment and immigration options once you have completed your studies.
What's more? British Columbia cities regularly appear at the top of global rankings for livability and quality of life with the mildest winter temperatures in all of Canada. Join 152,000+ students from across the globe studying at all levels in BC.
Join us as we showcase opportunities studying in British Columbia, with representatives of University of West Canada, Pacific Link College, North Island College, Northern Lights College, Coast Mountain College, Royal Roads University, CityUniversity Canada, Vancouver International College, and Sprott Shaw College on 26th June, Saturday – 10AM. Just download the ZOOM app on your smartphone, tablet or computer and join our webinar from the comforts of your home. You wouldn't want to miss this, sign up today!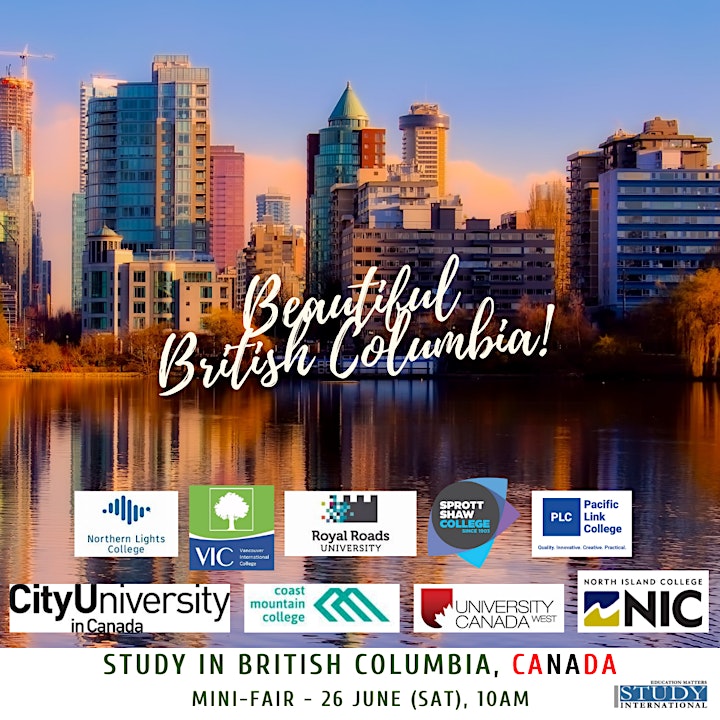 Organizer of Study in CANADA: Destination Series 2021 Featuring BRITISH COLUMBIA
STUDY INTERNATIONAL is your ONE-STOP-SHOP for studying abroad.  We provide education counselling and assistance for studies in MOST COUNTRIES (UK, Australia, New Zealand, USA, Canada, Switzerland, Italy, Germany, Spain, Ireland, Netherlands, Japan, China, South Korea, Malaysia, and Singapore).  With our knowledge and expertise, we help you make an INFORMED choice based on your dreams, ambition and budget.
Our FREE SERVICE includes advice and support for applications to all levels of overseas education (Boarding School, Summer School, Diplomas, Bachelor Degrees, Masters and PhDs).  We assist with accommodation and travel options, visa application, and all other matters related to studying abroad. 
PHONE: (+63) 920 951 9657  | EMAIL: info@studyinternational.com.ph | WEBSITE: http://www.studyinternational.com.ph
For updates on presentations and other events, you may also check out and follow us through Social Media:
FACEBOOK: www.facebook.com/studyinternational.ph
INSTAGRAM: https://www.instagram.com/studyinternationalph/
TWITTER: www.twitter.com/StudyIntlPH