Speak to reps in 1-1 consultations. Affordable tuition fees, waived IELTS & application fees, reduced tuition deposits, and scholarships!
About this event
Canada is known for having great healthcare, but in Alberta international students can be eligible for something called the Alberta Health Care Insurance Plan (AHCIP). The AHCIP, which is publicly funded, covers Albertan residents for almost all necessary medical care. If you have a study permit or plan to live in Alberta for 12 months or more, you can apply to get it as a foreign student. This means that if you get ill, injured or need advice, you won't have to worry about how much it costs while you study in Alberta.
The International Graduate Program under Alberta Immigrant Nominee Program (AINP) entitles the students graduating from a recognized post-secondary educational institute of the province of Alberta to apply for permanent residency by applying for Provincial Nominee Certificate. Students possessing this certificate have their application for permanent residency in the province of Alberta processed much faster than any other immigration category.
Another great destination awaits for international students is the province of Saskatchewan. With a robust economy, a growing number of employers, and enticing salaries, there is no better place to study, work or live in Canada than Saskatchewan. In Saskatchewan, students have a ton of elite post-secondary schools to choose from, ranging from polytechnics to career colleges to universities. The province boasts of friendly and safe communities, a reasonably affordable standard of living, and lots of things to see and do.
The Graduate Retention Program of Saskatchewan allows individual graduates who have graduated & live in Saskatchewan to gain a rebate of up to $20,000. The Saskatchewan Graduate Retention Program has helped the province to retain graduates in fields of high demands by providing a partial refund on their tuition fee.
Affordable tuition fees, reduced tuition deposits, partial scholarships, paid internships, working part-time, bringing of working spouse and children with free primary and secondary education, Post-Graduation Work Permit Program (PGWPP), access to free healthcare system and Immigration with full Canadian national benefits are some of the many opportunities available by just studying in Canada.
Join us as we showcase opportunities studying in Alberta and Saskatchewan, with representatives of University of Lethbridge and Saskatchewan Polytechnic on 10th July, Saturday – 10AM. Just download the ZOOM app on your smartphone, tablet or computer and join our webinar from the comforts of your home. You wouldn't want to miss this, sign up today!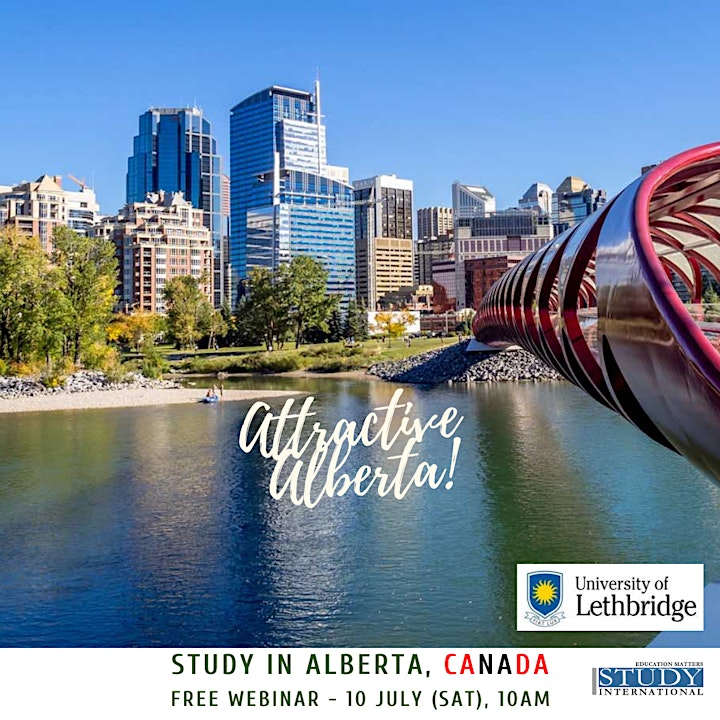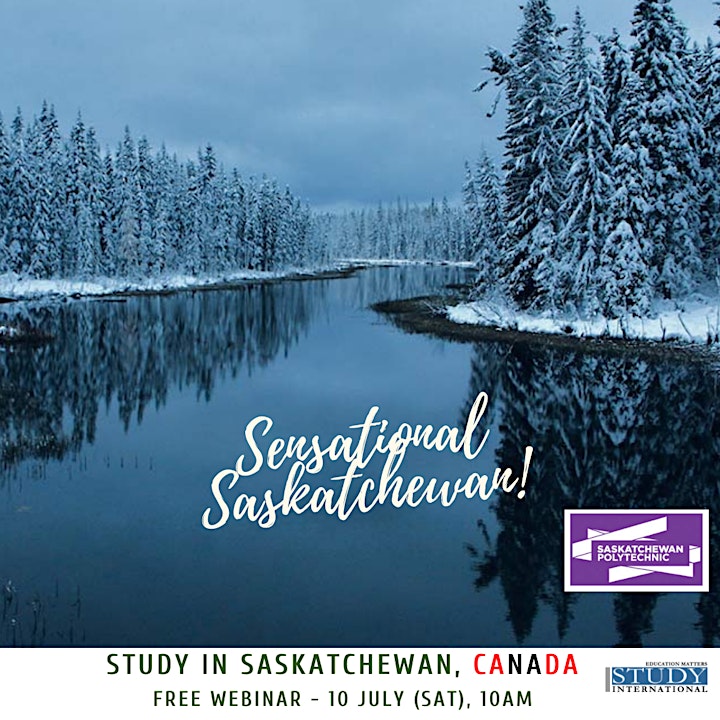 Organizer of Study in CANADA: Destination Series 2021 Featuring ALBERTA & SASKATCHEWAN
STUDY INTERNATIONAL is your ONE-STOP-SHOP for studying abroad.  We provide education counselling and assistance for studies in MOST COUNTRIES (UK, Australia, New Zealand, USA, Canada, Switzerland, Italy, Germany, Spain, Ireland, Netherlands, Japan, China, South Korea, Malaysia, and Singapore).  With our knowledge and expertise, we help you make an INFORMED choice based on your dreams, ambition and budget.
Our FREE SERVICE includes advice and support for applications to all levels of overseas education (Boarding School, Summer School, Diplomas, Bachelor Degrees, Masters and PhDs).  We assist with accommodation and travel options, visa application, and all other matters related to studying abroad. 
PHONE: (+63) 920 951 9657  | EMAIL: info@studyinternational.com.ph | WEBSITE: http://www.studyinternational.com.ph
For updates on presentations and other events, you may also check out and follow us through Social Media:
FACEBOOK: www.facebook.com/studyinternational.ph
INSTAGRAM: https://www.instagram.com/studyinternationalph/
TWITTER: www.twitter.com/StudyIntlPH