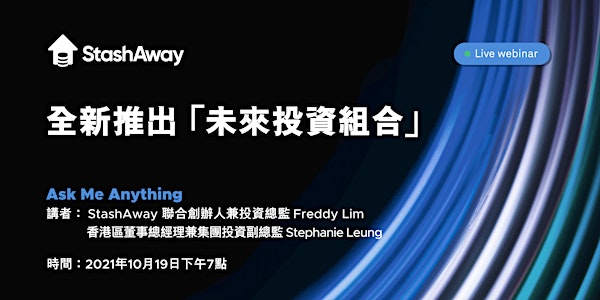 StashAway AMA Webinar:全新推出 「未來投資組合」 Introducing Thematic Portfolios
參加此 Ask Me Anything Webinar 活動,瞭解更多有關 StashAway 「未來投資組合」 的詳情,如何配合您的個人理財計劃做好投資!
About this event
今時今日,區塊鏈、生物技術與人工智能等創新科技成為未來世界的運作核心。對投資者而言,更提供了不少投資機會,創造更多個人財富!
Upcoming and promising innovations, such as blockchain, biotech, and artificial intelligence, are not only transforming the world, but are also an important investment opportunity for anyone looking to diversify their portfolio.
現在,透過投資未來,我們與您一齊改變世界運作模式。參加此 Ask Me Anything Webinar 活動,瞭解更多有關 StashAway 「未來投資組合」 的詳情,如何配合您的個人理財計劃做好投資,走進未來創造財富!
Join us as we discuss Thematic Portfolios at StashAway, how they fit into your financial plan, and things you should consider before investing in a Thematic Portfolio to build your long-term wealth.
首15 分鐘 Stephanie 將介紹 「未來投資組合」,其後將與參加者進行即場問答互動環節,您亦可預先將有關問題電郵至我們的客務服務團隊!
The webinar will have a 15min presentation and a live AMA session, so keep your questions ready!
有關講者
Stephanie Leung - StashAway香港區董事總經理兼集團投資副總監
Stephanie 於過往17年曾為高盛、多家機構投資者及家族辦公室管理環球多元化資產投資組合。 她於全球宏觀及定量投資方面擁有豐富的專業知識,成功為客戶管理超過數十億美元的投資組合。加入金融界前,她於顧問公司 McKinsey & Co.(亞太區分部)建立其首個事業里程碑。
Stephanie 獲美國史丹福大學頒授計算機科學(人工智能專業)碩士學位,及獲密歇根大學頒授計算機工程學士學位。
Stephanie Leung, Group Deputy CIO and the Director and Head of StashAway HK
Stephanie has more than 17 years of experience in managing multi-asset portfolios globally for Goldman Sachs, as well as for institutional investors and family offices. Her expertise in global macro and quantitative investing has enabled her to effectively manage multi-billion portfolios for her clients. Prior to finance, she began her career at McKinsey & Co. advising companies in the Asia Pacific region.
Stephanie earned her MS in Computer Science (Artificial Intelligence) from Stanford University and BS in Computer Engineering from the University of Michigan.
Freddy Lim - StashAway聯合創辦人兼投資總監
Freddy 曾於Nomura任職董事總經理及環球金融衍生品策略總監,成立並領導環球團隊,並於 2015 年 9 月獲Global Capital 頒發「全球金融衍生品 - 最佳研究及策略大獎」 。
Freddy經常受邀各大機構,就其專業領域發表演說。曾於2015年7月及2014年11月,分別於紐約RISK's Quant Congress USA大會及芝加哥Global Derivatives USA會議上擔任主發言人。他亦為 StashAway 獨有投資框架ERAA® 的建構者。此框架可根據不同經濟環境,並根據中期估值差距,為客戶的投資組合作出最佳的前瞻性資產配置。
Freddy Lim, Co-founder and CIO of StashAway
He was the Managing Director and Global Head of Derivatives Strategy at Nomura and has built and spearheaded a global team that won the "Global Derivatives – Research and Strategy House of the Year" award by GlobalCapital (September 2015).
Freddy was regularly invited to speak in the field and was notably the keynote speaker at the prestigious "Global Derivatives USA" conference (Chicago, Nov-2014) and at the RISK's Quant Congress USA (New York, July 2015). Freddy is the architect behind StashAway's ERAA (Economic Regime-based Asset Allocation), which is a framework that identifies the right mix of asset classes for a given economic regime and makes forward-looking adjustments based on medium-term valuation gaps.
有關 StashAway
StashAway 為亞洲領先的智能資產管理平台,於 2017 年在新加坡成立,業務拓展至馬來西亞、中東北非地區及泰國,於 2021年 4 月開展香港區業務。同期,我們於 Sequoia Capital India 領投集資下,成功於 D 輪融資中籌集超過 2,500 萬美元資金,我們旗下所管理的資產總額超過10 億美元。我們以「零情緒,純數據」方式管理投資組合,並以 「賦予生活,富裕未來」 為服務宗旨,致力與您一同創造長遠財富!
一經報名參與此活動,您將被視為理解並同意 StashAway 收集您於報名表格中直接輸入的個人資料,亦同意我們之後就 StashAway 產品、服務及活動與您聯絡。如果您想退出,可使用電郵中的取消訂閱功能輕鬆退出。如您想了解更多關於我們的 私隱政策,您可訪問我們的私隱政策頁面,該政策將準用於您所報名參與的活動。
About StashAway
We're Asia's leading digital wealth manager, and in November 2020, we launched in the MENA region. We recently raised $25 million USD in Series D funding led by Sequoia Capital India, and our clients trust us with more than $1 billion USD under management. We're here to build your wealth.
By registering for this event, you are deemed to have understood and consented to StashAway collecting your personal data that you directly input into the registration forms and contacting you thereafter in relation to our products, services and events. We promise to send only the good stuff. However, if you ever wish to opt out, you can easily unsubscribe using the Unsubscribe feature included in the emails. If you wish to know more about our Privacy Policy, you can visit our Privacy Policy page where the policy will apply mutatis mutandis to the event that you have registered for.