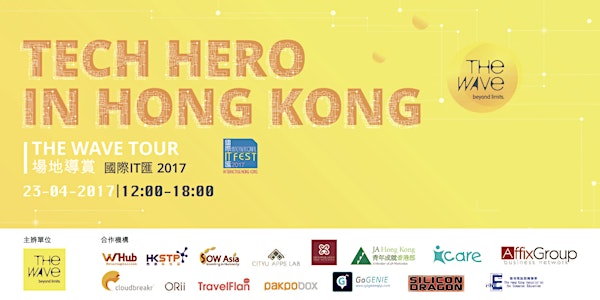 Startup Workspace & Event Space Tour - The Wave 場地導賞: Tech Hero in Hong Kong
When and where
Location
9/F, The Wave 4 Hing Yip Street Kwun Tong Kowloon Hong Kong
Description
Workspace & Event Space Tour - The Wave 場地導賞: Tech Hero in Hong Kong
Looking for a Co-working space? Or a venue for your next event? The Wave is an integrated platform where people work together regardless of their activities, skills and purposes. Having shared facilities in a comfort environment with ready-made solutions for all premise requirements. We're organizing a site tour on 23 April alongside IT Fest 2017, visitors are able to experience how individuals, amazing events, startups and entrepreneurial momentum joint together under one roof. Throughout the year, we've hosted over 400 events, uncountable footprint and generated 5,000+ event hours in various purposes. JOIN NOW!
THE WAVE 是位於觀塘的嶄新綜合平台,提供工作空間、活動場地及餐飲設施於一身。一班有夢想有熱情的創業者及中小企商家凝聚一起去實踐理想、拓展業務、更重要的是突破自己所想及持續發展令業務穩健增長。The Wave 將於4月23日適逢國際IT滙2017, 舉行場地導賞, 參觀人士可以體驗我們如何把創業家, 活動及不同人士聯系在一起。在過去的一年,我們成功為各界人士舉辦超過400場活動,並在各種場合舉辦了5000多個活動時數。立即報名參觀!

日期 Date: 23-04-2017
時間 Time: 12:00-18:00
地點 Location: 9/F The Wave, 觀塘4號興業街 | 9/F The Wave, 4 Hing Yip Street Kwun Tong
Google Map: Click here
參觀人士費用 General Visitors Fee: 全免 FREE
About The Wave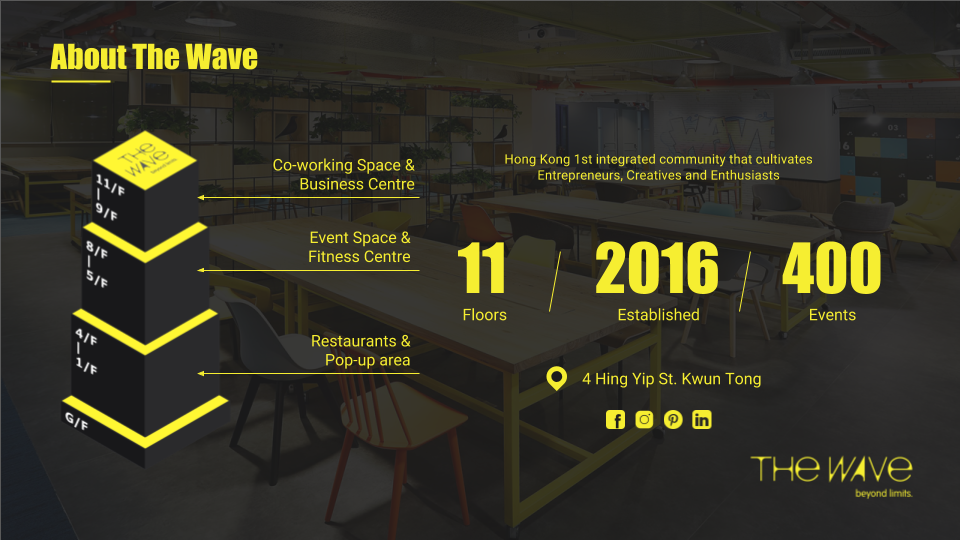 The Wave is an integrated platform which comprises co-working spaces, event venues, pop-up stores, F&B floors and entertainment areas all under one roof. Our mission is to help the next generation of enthusiastic entrepreneurs and small companies to achieve their dreams and thus beyond limits.
同場加映:
社交媒體工作坊 by Cloudbreakr / 14:30 – 16:00 >>>詳情及登記
科創公司展覽 Tech Startup Exhibition / 12:00 – 18:00 >>>詳情及登記
Ask Me Anything: Tech Hero in Hong / 16:00 – 17:50 >>>詳情及登記