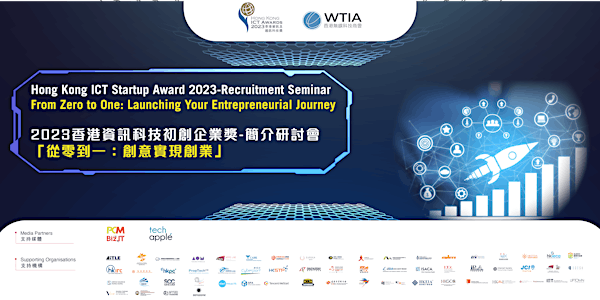 Startup Seminar: From Zero to One - Launching Your Entrepreneurial Journey
Get ready to launch your entrepreneurial journey | Experience From Successful Startups | Advices From Your Potential Investor | Join Us!
By Hong Kong Wireless Technology Industry Association
Date and time
Mon, 19 Jun 2023 15:00 - 17:00 HKT
Location
Tencent WeStart 6/F, KOHO, 75 Hung To Rd Kwun Tong Hong Kong
About this event
From Zero to One: Launching Your Entrepreneurial Journey
「從零到一:創意實現創業」
Date: Monday, 19 June 2023
Time: 3:00 pm - 5:00 pm (GMT+8)
Venue: Tencent WeStart (Hong Kong) - 6/F, KOHO, 75 Hung To Rd, Kwun Tong
Language: Cantonese
Join us for an exciting and informative event at the HKICT Startup Award 2023 Recruitment Seminar and Briefing Session on 19 June 23, where attendees will have the opportunity to learn from successful startups, gain advice from experienced investors, and receive tips for applying to the Hong Kong ICT Startup Award 2023.
This event is designed to provide budding entrepreneurs with valuable insights and networking opportunities to help kickstart their entrepreneurial journey. Our panel discussions will cover a range of topics, from securing investment for your startup to learning from setbacks and failures on the path to success.
Attendees will have the chance to interact with prominent entrepreneurs and investors, gain valuable knowledge and advice, and network with like-minded individuals.
Don't miss out on this unique opportunity to take the first step towards launching your own successful startup.
------------Programme Rundown------------
3:00pm - Welcoming Speech by Organiser
Mr Keith Li, Chairman, Hong Kong Wireless Technology Industry Association (WTIA)
3:05pm - Keynote Speech by GoH
Mr Kingsley Wong, Deputy Government Chief Information Officer (Acting), OGCIO
3:20pm - Introductory Section to ICT Startup Award 2023
3:30pm - Meet the Winners
● Mr Raymond Mak, CEO and Co-Founder, Farmacy HK
● Mr Kelvin Chu, Co-Founder & Chief Resources Officer, Vista Innotech
Limited
3:40pm - Panel Discussion #1
Funding Your Dreams: Tips and Tactics for Securing Investment in a New Venture
Panellists
● Mr Alvin Lam, Founder, T12M Ventures
● Mr Mingles Tsoi, ParticleX, Chief eXploration Officer
● Mr Jimmy Ng, Senior Investment Manager, Gobi Partners GBA
4:00pm - Panel Discussion #2
From Zero to "Forbes Asia 100 To Watch": The Story of a Startup Founder
Panellists
● Dr Miles Wen, Co-founder & CEO, Fano Labs
● Dr Martin Zhu, Co-founder, i2Cool Limited
● Mr Hugo Cheuk, Co-Founder & COO, viAct
● Mr Tenny Lam, Co-Founder, Grand Rise Technology Limited
4:30pm - Networking and Q&A Session
About the organiser
Wisher | Thinker | Innovator | Accelerator
Hong Kong Wireless Technology Industry Association (WTIA), established in 2001, is a not-for-profit, politically-neutral trade association dedicated to the wireless and mobile industry. The Association acts as a platform, an aggregator, and a community for industry professionals to advance and facilitate the development of wireless, mobile, and emerging innovative technologies. We aim to enable technological breakthroughs and accelerate the applications of state-of-the-art technologies in various industries. Together, we are dedicated to shaping Hong Kong into a top-class innovation and technology smart hub.
Throughout all these years, WTIA is glad and honored to have support from all corners of the Wireless Industry. We strive to gather like-minded professionals by organising various online and offline activities to facilitate our six core objectives.