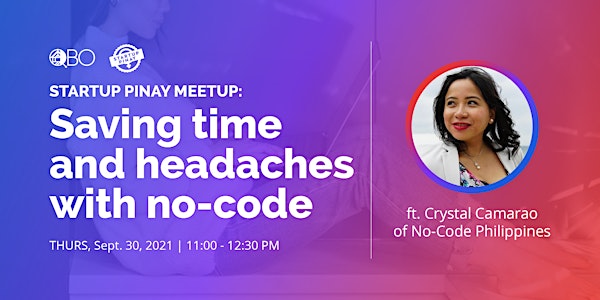 Startup Pinay Meetup: Saving time and headaches with no-code
Let's discuss one of the most prevalent founders' headaches : finding the right tech talent / partners to help you build your venture
About this event
Q-musta, Startup Pinays?
We're rounding up the female founder community for this meetup to discuss and tackle one of the most pressing challenges that startup founders face - looking for a tech co-founder or tech expert who can help them build out their idea.
How do we go about building the tech if we don't have the skills for it yet, what tools do we use, where can we find people who can help and what do we look out for so we know we're doing this properly? Let's discuss that at the meetup!
Recently, no-code has become more popular and more people are building their own startups using no-code tools, allowing them to validate their assumptions and start serving their target customers and markets. We will be having Crystal Camarao of No-Code Philippines, to tell us more about the no-code movement and how it can help women and other potential startup founders as you get through the initial stages of building their idea or to improve their own workflows.
Part of the session will also be open discussion with Crystal and Arup Maity of Steer to clear out your concerns and give you advice on how to move forward with your tech efficiently
Proposed Program
11:00-11:05 - Session opens
11:05-11:10 - Intro to Startup Pinay 
11:10-11:20 - Icebreaker: Getting to know each other + How can we help each other? 
11:20-12:00 - Worried about tech? Start with No-Code w/No-Code Philippines' Crystal Camarao
12:00-12:30 - Breakout Discussion
12:30 - Session closes
-------------------------------------------------
What is Startup Pinay?
The Startup Pinay program was initiated to address the alarming disparity between male and female entrepreneurs. A joint project between QBO and DTI, the program is creating and nurturing a community of female-led and female-empowered tech startups in the country and giving them opportunities that could help the growth and development of their businesses, which includes international exposure, market expansion, exhibition opportunities, and capacity building programs, training, and education. The Startup Pinay project also identifies opportunities and resources available to Filipina tech entrepreneurs in order to better equip them for success.
Now also with an exciting partnership with Investing in Women, an initiative of the Australian Government that promotes women's economic empowerment in South East Asia, the program takes meaningful steps towards shifting gender norms, especially as it concerns the role of women as founders, workplace gender equality, and access to growth capital for women-owned and women-led enterprises in the Philippines.
----
Note that by registering for this event, you authorize QBO Innovation Hub to add you to their respective newsletter distribution lists. The organizers may also record this event, so by registering you agree that you accept that you will be part of a recording and that this may be distributed/shown publicly.
Thank you!