Startup Mentoring Intensives: Business Model Canvas

Thursday, June 14, 2018 from 3:00 PM to 5:00 PM (HKT)
Event Details
SIGN UP NOW - Don't know how to launch an idea? Confused by inconsistent advice? Frustrated by lack of progress? Competition eating into your business? Are you on the right track? Is your idea of fundable? How do I present to an investor? All Entrepreneurs face the same questions time and time again. Their goals are the same –to test and launch an idea, and build a successful business!
It doesn't matter what kind of entrepreneur you are, a Startup, Freelancer, SME, consultant or working in Corporate Innovation, you must understand that Businesses building or commercializing innovation, isn't new! It is a skill. It can be learned, sharpened and improved, like getting fit or training for a marathon, if you follow a plan, train regularly and monitor your progress, you will get results. Just as gyms use trainers, we use mentors!
Startup Mentoring Intensives (SMI) are designed to help you succeed with structured mentoring by experienced, vetted mentors. It uses the Lean Startup process by focusing on topics like Business Model Canvas, Value Proposition Design, Investor Readiness, etc. SMIs are short and active, and are to be attended regularly. You will get clarity on where you are and where you need to get to, while addressing your current challenges and the ones you don't know about yet. The programs were created by Deepak Madnani, founder of Paperclip Startup Campus and tested with over 1,500 founders who he's worked with!
Topic: Business Model Canvas Workshop
Since its creation, the Business Model Canvas has become the reference tool for startup implementation and strategic innovation, and it is one of the critical tools in the Lean Startup process. It is now used by many successful companies and taught in major universities and business schools. This visual tool helps you to describe, design, challenge, implement and evolve your business model. 
In this intensive 2 hour 'organised mentoring' session, you will learn how companies and startups create, deliver and capture value and what you need to do to do the same. You will review examples of business models ranging from start-ups to Fortune 500 companies and you will also learn the rules and best practices to design and prototype your own business model.
These sessions are designed to be attended as often as you need them.
---
Upcoming SMI workshops:
Jun 27 (3-5pm): Startup Mentoring Intensives: Value Proposition Design
Jun 29 (4-6pm): Intro to Startup Mentoring Intensives & Founder's networking
---
About the SMI Program: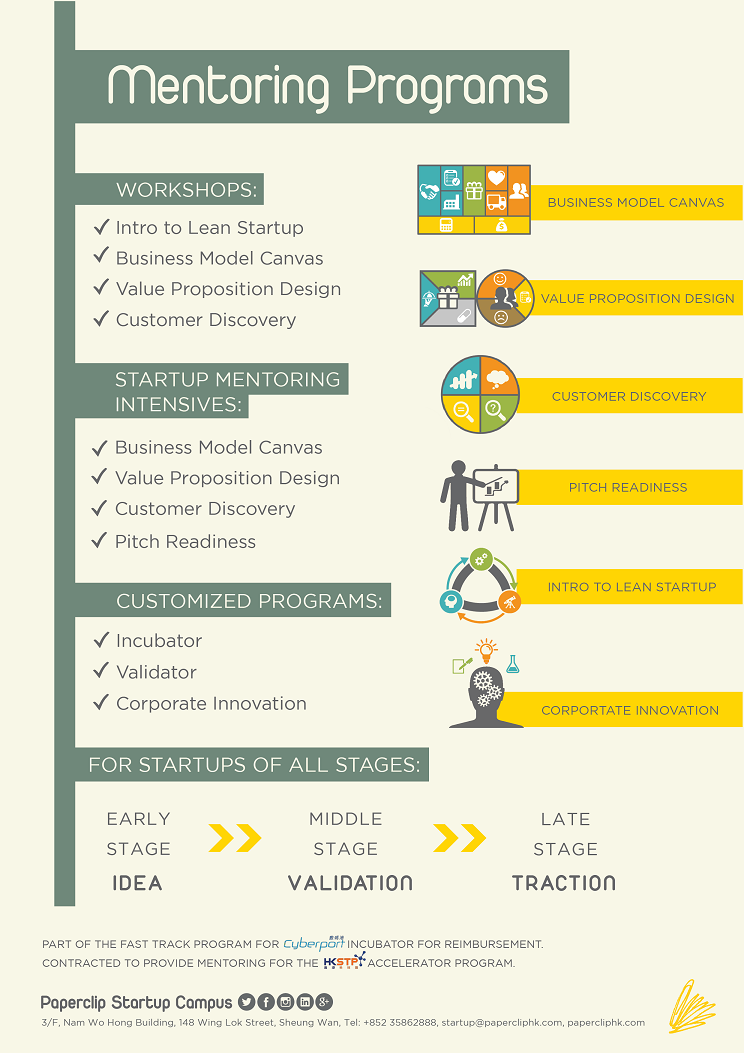 ---
About the mentor:
When & Where

Paperclip Startup Campus
3/F, Nam Wo Hong Building
148 Wing Lok Street,
Sheung Wan, Hong Kong
Hong Kong SAR China

Thursday, June 14, 2018 from 3:00 PM to 5:00 PM (HKT)
Add to my calendar
Organizer
Paperclip is Hong Kong's first dedicated startup campus which uniquely combines a Startup Academy with Cowork Space. Paperclip's mission is to raise Hong Kong's startup standards. The academy focuses on the lean startup methodologies and business model canvas tools. The beautifully designed, 5000 square feet space is located in Sheung Wan, the 'new Central' for startups, and is equipped with office, cowork, meeting, classroom and event space.